So, you are considering buying Windows 8 when it gets released? Then you should know all about the 5 Windows 8 version. This comparison is supposed to help you understand the key differences and make an educated buying decision.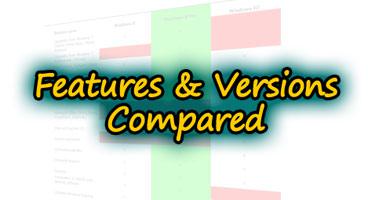 Download Feature Comparions of Windows 8 Editions
Version 1: Windows 8
The basic version – this version is intended for all 32-bit and 64-bit PC's and mobile devices that are not running on ARM. This version should be the best choice for the average Windows users who needs it to surf the web, play a game
Version 2: Windows 8 Pro
You're a tech enthusiasts? We love Windows and will definitely get this version, because it adds advanced features that many advanced users will appreciate like encryption and virtual machines. Also includes the Windows Media Center but it will be an add-on – it is possible this add-on will also be available for Windows 8 (basic), so do not buy Pro only for this feature. However, from our experience especially the average user can profit from the Pro edition. As know from prevision Windows edition, the basic version will not include the Group Policy Editor, but this tool can especially help beginners who are following a tutorial on a website like ours.
Version 3: Windows 8 Local Language
You are in China or India and want to use Windows 8? Microsoft is aware of your lower budget and will make sure to provide appropriate versions for your country and other emerging markets.
Version 4: Windows 8 RT
Do you have a tablet that runs on ARM? Various mobile devices will have an ARM CPU. If so, you need Windows 8 RT. This version adds Microsoft new Office with touch. Get this version if you are a mobile user and don't have a desktop PC
Version 5: Windows 8 Enterprise
Companies and enterprises around the world rely on Windows products. If you are keen on upgrading and bringing your IT organization or small business up to date, this version should be considered as a viable alternative to the versions mentioned above.
Windows 8 Features Compared: Tidy Sheet With Color Formatting
Don't know what version you should get and what features are included in what edition? If so, grab this PDF file: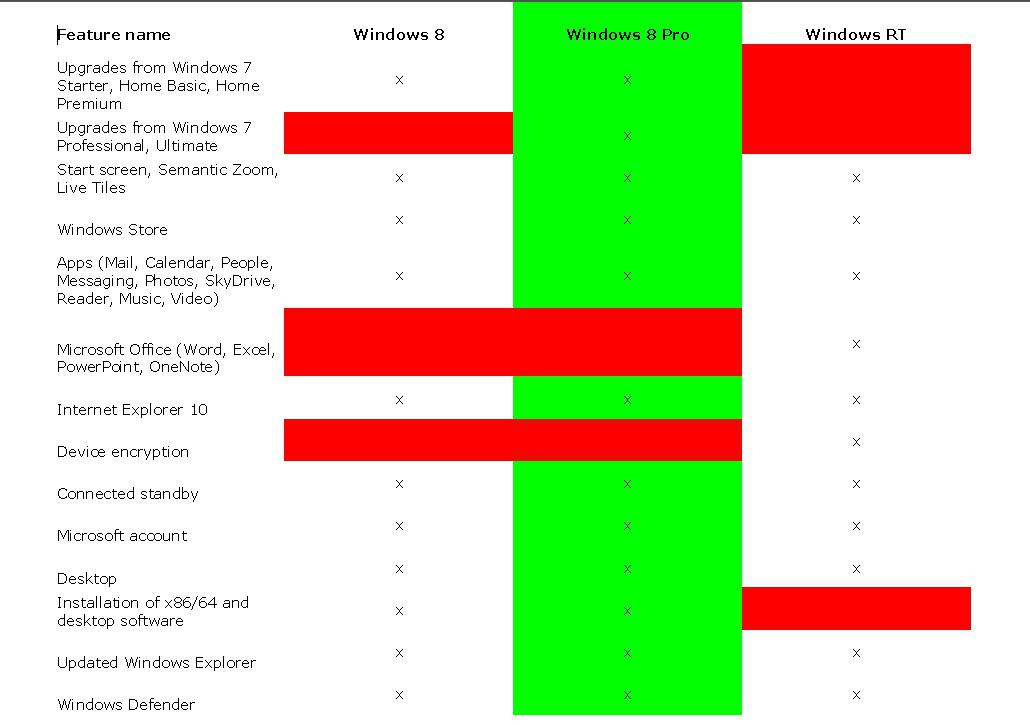 We created this PDF file for you to easily compare all of the versions:
Download Feature Comparions of Windows 8 Editions
Still can't decide?
Let us know what you want to do and what device you want to run Windows 8 and we will let you know what version you should get! Hopefully, this little comparison will help you get the best edition for your own unique needs.