If you are experiencing constant crashes, lags, freezes or other errors in Portal 2, here's how to fix it.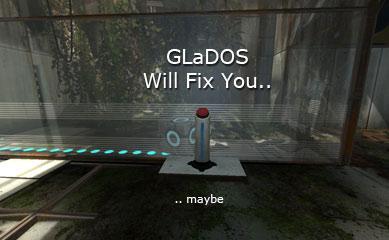 Fixing Crashes & PC Freezes
Getting Fatal Crash Intercepted! ?
First of all, you should work on this checklist that might help you to play Portal 2 without any annoying errors:
1. Step Verify your steam game files
2. Step If you're having blue screens, please follow our tutorial to fix blue screens in Windows 7
3. Step Download the latest video card drivers for Windows 7
4. StepUpdate other Windows 7 drivers
5. Step Update DirectX
6. Step Reinstall Portal 2 and/or Steam completely
Laptop users might want to add the Portal2.exe to the Nvidia Control Panel and make it use the Nvidia GPU.
Disable Anti-Virus Tools!
Temporarily disable ZoneAlarm, AVG, Avast or any other anti-virus tool you are using. Even try uninstalling it shortly to see if it resolves the problem. A lot of problems, especially if you are playing online, occur thanks to advanced security tools.
Fix Mouse Glitch
I experienced a "mouse cursor glitch". To be exact, when I enable Triple V-Sync buffering, I can see the mouse cursor within Portal 2. The solution is easy, switch to Wait for VSync: Double Buffered instead of Triple Buffered.
Portal 2 Crashing To Desktop?
If Portal 2 crashes right back to the desktop when you start it, try this.
1. Step In Windows 7, open the folder:
C:\Program Files\Steam\steamapps\common\portal 2
2. Step Now right click on the file "portal.exe" and select "Run as administrator"
Last Resort? Disable DEP Temporarily
You do this at your own risk and it cause a lot of other problems, but you can try to disable DEP in Windows 7 (Data Execution Prevention).
Portal 2 Lagging? Disable "Wait For Vertical Sync"
Open up the Portal 2 options, then go to the video options and then click on Advanced.
The advanced graphic options in Portal 2 allow you to disable "Wait for vertical sync" as seen below: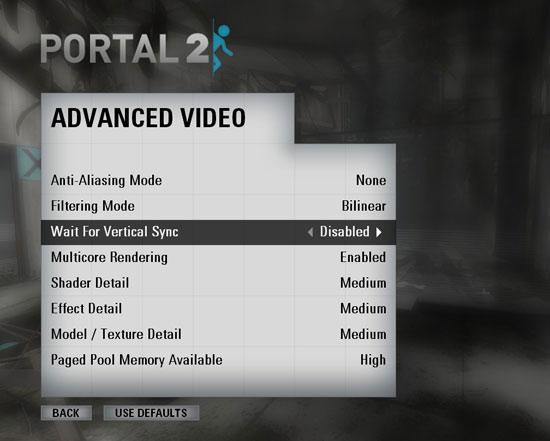 If you don't have a new graphic card this setting is recommend for the smoothest Portal 2 experience. It will significantly reduce the lagging in Portal 2. If you have a new graphic card you can enable it.
Portal 2 Visual 2005 Run Time Error
Install Microsoft Visual Runtime Libraries in order to fix the error.