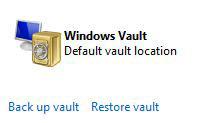 Did you know that Windows provides a built-in tool to store and manage passwords for home networks and/or websites? Yep, you don't need to remember all your passwords, you can securely store passwords on your computer. This is especially handy for logging into network computers.



The credential manager will not replace a professional password manager like Roboform (which is also way more secure), but it is very useful if you don't want to enter the passwords for you network computers over and over again, which is VERY annoying.
1. Step Click on Start
2. StepEnter Credential Manager into the search field and hit enter. You can also access the Credential Manager via Control Panel > User Accounts and Family Safety > Credential Manager
If you have previously stored any passwords on your PC, Windows will list them here. For example if you stored your hotmail password you will find an entry under "Generic credentials":

Store Network Passwords
Click on Add a Windows credential

If you know your network address, enter it along with your user name and password and you will no longer be asked to enter it.

Let's say you have a computer in your network called "Random PC", then you can simply enter this PC name and your username/password that you use to log into the network PC and Windows will store the passwords: