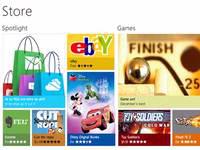 Never used Windows 8 before? Here's how to use the Windows Store.
Windows 8 brings apps, and the Windows Store along with it. Here's how to get around
One of the first things Windows 8 owners will notice when using the Metro version of Windows 8 is the Windows Store. Like the App Store or Google Play, Microsoft is launching a hub for first- and third-party apps. Here are the key features of the store.
Before you do anything in Metro Windows 8, you'll be on the Start Screen. This is the base level of the Metro UI, where you can see apps that are pinned to the Start Screen along with your account name and picture (you can also switch to the desktop side here by clicking a tile). The Windows Store by default is in the top left-hand corner, so click on it to get started.
The Store
Opening the Store shows the Spotlight section on the leftmost side. This is like the Spotlight section on the Xbox 360's dashboard, assuming you're using the most recent version, showing highly rated apps and winners of app contests. Undoubtedly when more developers get on board, as Windows 8 releases, spotlights will be changing frequently. So keep your eyes peeled.
If you want to see more icons, pinch the screen to zoom out like you can on the Start Screen. Like the Start Screen swiping left and right moves through different categories, such as Games. You can also tap on a tile showing preinstalled apps.
Other categories in the Store are Social (Twitter, Facebook etc.), Entertainment, Photos, Music Videos, Security and Education. Whether the Security section will be passcode locks, or more elaborate antivirus programs that work in the desktop side of the OS, remains to be seen.
Select the "Top Free" icon in the Store shows popular free apps to download. The apps will be presented in rectangular tiles in rows, with apps such as Photobucket and the Xbox Live Companion app – which shows your online friends, profile and latest features on the Xbox dashboard – some free apps. An out-of-five star is also shown.
Clicking on app will shows an Overview description, a price, Reviews and screenshots. It's almost identical to the latest Xbox Live Marketplace.