Found some weird files on your drive and some suspicious processes in your task manager? If so, you should check the files online and see if they are malicious files that can damage your PC.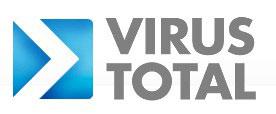 VirusTotal Uploaded is a free tool that allows you to upload the files online to scan them. Often viruses disable your own Anti-Virus although they seem to be working. That's when you should consider uploading your files. VirusTotal combines more than 40 virus scanners and is therefore considered to be a very strong online scanner for viruses.
You can access the VirusTotal Uploader via your context-menu (right-click menu) after downloading and installing it. You can download the online virus scanner for free at pcworld.com
If you have already been infected and can't re-enable your antivirus, you might want to try an antivirus solution that is not so popular. One of the best new free anti-virus solutions is ClamWim.
Linux Best Free Anti-Virus Now Available for Windows 7
The popular Linux Anti-Virus ClamWin is now available for Windows. The free anti-virus can find more than 100,000 viruses, trojans and spyware files. Download the open-source anti-virus tool here: