Do you always get the error "Firefox is already running, but is not responding. To open a new windows, you must first close the existing Firefox process, or restart your system.

The Problem:
Killing Firefox.exe Process
The easiest solution is obviously to open the task manager and then right-click the process Firefox and select End Process
Hit CTRL + ALT + DEL on your keyboard and at the bottom click on Start Task Manager
Then go to the tab Processess and select a process. Hit F on your keyboard until you find Firefox.exe, then right-click on it and select End Process: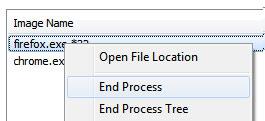 You will be asked for confirmation "Do you want to end firefox.exe *32, click End Process
Now start Firefox again and the error will be gone.
Remove Parent.Lock To Fix Problem
1. Step Open the Windows Explorer and go to D:\Users\
(username)\AppData\Roaming\Mozilla\Firefox\Profiles\m7m7809p.default
2. Step Make sure you can see hidden folders or you might not be able to access that folder
3. Step Remove the file called parent.lock
Last Solution: Re-Install Firefox
Re-installing or upgrading Firefox often helps to fix issues. Firefox is pushing out new versions like crazy. In fact, it's one of the major issues. They are releasing too many versions and each version after Firefox 3.6 was a little worse. The new render engine is making sites look extremely ugly and the browser is rather slow. Please bring us one light-version of your browser!
Still getting the error "Firefox is already running"? Consider contacting Mozilla's support