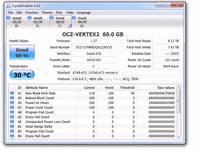 SSD's are known to have a shorter lifespan than regular hard drives and the wrong Windows settings can lower it even more, here's how you would check the health of your Windows SSD.
Recommended Tool: CrystalDiskInfo – Free + Reliable
1. Step Do not use tools like "SSD Life" – it's being advertised on various sites, but it appears to be rather unreliable during my tests. Instead I recommend to use CrystalDiskInfo (4.3.0)
2. Step Go to http://crystalmark.info/download/ to get a copy (I downloaded the Portable version)
3. Step CrystalDiskInfo can not only analyze the health status of your SSD but also all other drives. It reads your SMART data and even shows you all SSD features: 48bit LBA, APM, AAM, NCQ, TRIM: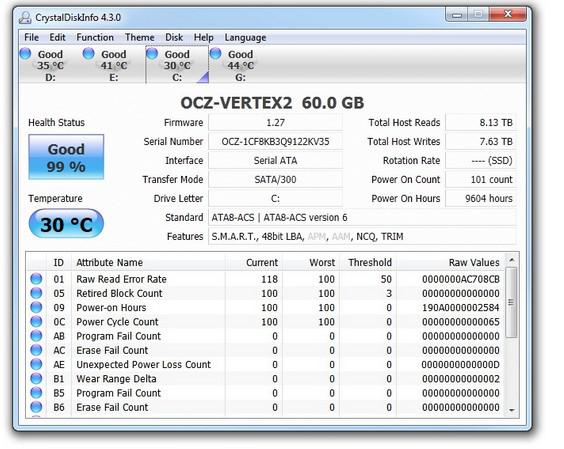 IMPORTANT: Do not take values for granted, especially current and worst temperature
Some values can not be directly read from the S.M.A.R.T data, e.g. the current and worst temperature – that's why some tools will simply display 129 degree as the worst temperature and 30 as the current temperature
Download OCZ Tool To Display SMART Read Data
It is important that you always install the tool from your hard drive manufacturer e.g. OCZ to get the numbers from a 2nd possible more reliable tool. If you have a SSD from another manufacturer, go to their website instead, I am showing you this on a OCZ SSD
1. Step Head over to http://www.ocztechnology.com/ssd_tools/
2. Step Select your SSD type e.g. OCZ Vertex 2
3. Step Download the file OCZ Toolbox (Firmware Updater)
4. Step Open the OCZToolbox_v3.xx.zip and double-click on OCZToolbox.exe
5. Step Go to the tab Details and click on Display SMART Read Data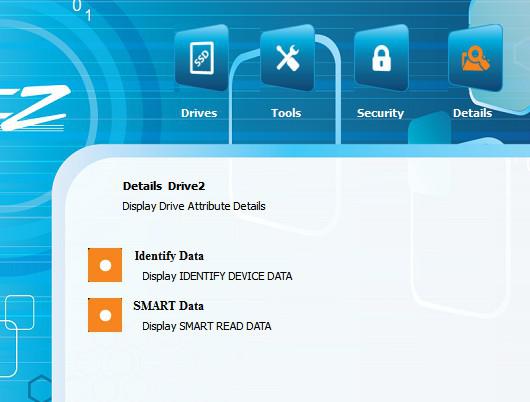 SMART READ DATA EXAMPLE OUTPUT

ModelNumber : OCZ-VERTEX2
Serial Number : OCZ-1CF8KB3Q9122xxx
WWN : 5-e8-3a-97 f90b3a5c7

Revision: 10
Attributes List
1: SSD Raw Read Error Rate Normalized Rate: 118 total ECC and RAISE errors
5: SSD Retired Block Count Reserve blocks remaining: 100%
9: SSD Power-On Hours Total hours power on: 9604
12: SSD Power Cycle Count Count of power on/off cycles: 101
171: SSD Program Fail Count Total number of Flash program operation failures: 0
172: SSD Erase Fail Count Total number of Flash erase operation failures: 0
174: SSD Unexpected power loss count Total number of unexpected power loss: 13
177: SSD Wear Range Delta Delta between most-worn and least-worn Flash blocks: 2
181: SSD Program Fail Count Total number of Flash program operation failures: 0
182: SSD Erase Fail Count Total number of Flash erase operation failures: 0
187: SSD Reported Uncorrectable Errors Uncorrectable RAISE errors reported to the host for all data access: 0
194: SSD Temperature Monitoring Current: 30 High: 30 Low: 30
195: SSD ECC On-the-fly Count Normalized Rate: 118
196: SSD Reallocation Event Count Total number of reallocated Flash blocks: 0
231: SSD Life Left Approximate SDD life Remaining: 99%
241: SSD Lifetime writes from host lifetime writes 7808 GB
242: SSD Lifetime reads from host lifetime reads 8320 GB
What Are Raw Read Errors?
The SMART data will show you the value of your Raw Read Error Rate. In short, it means that your SSD has some bad blocks. Bad blocks can slow down your drive and prevent it from reading files normally, therefore it is suggested to inspect that value
I'm currently researching more information about hardware read errors and will keep you posted on my findings.
Power On Hours and Power Count
One of the most important values when it comes to hard drive or SSD lifespans is probably the total "Power On Hours". CrystalDiskInfo can show you the Power On Hours and even the Power On Count
In my case the SSD already has 9604 Power On Hours (over a year) and a little over 100 Power On's and the SSD is still running fine and blazing fast.
You should test the various tools for a while and see what they have to offer. CrystalDisk is also a good tool to keep track of your hard drive temperatures (non-SSD!!)
Paid Health Checker: Error Scan, File Benchmarks, Total Number Of Read Errors
Another reliable tool that I found to check your SSD health status is HD Tunes http://www.hdtune.com/
A free trial is available. The error scan features makes this a great diagnostics tool, plus it has a file benchmark to speed test your hard drives. Handy!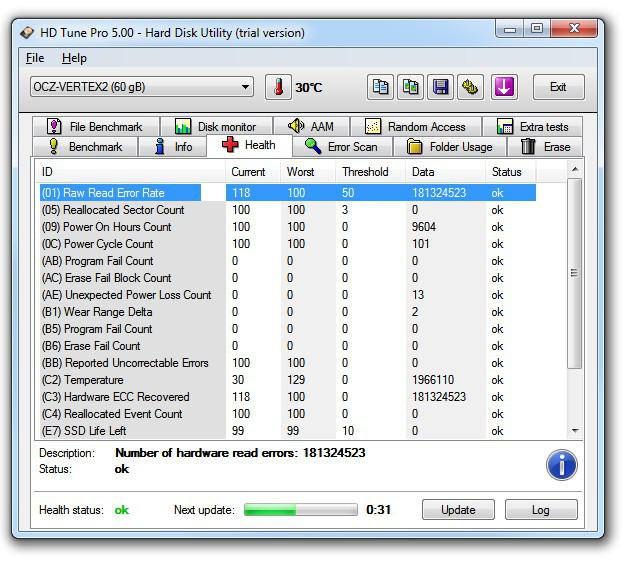 Open the tool and go to tab Health, then select Raw Read Error Rate to see the total number of hardware read errors.
Hopefully, this little guide will help you to find out more about your SSD health status and understand why some of the values are not important.