Doesn't it get hard for you to manage extensions for all of your browsers? We have reviewed Auslogics Browser Care for you. Read on for more details.

The problem with lot of extensions, plugins and add-ons:
I am one of the many avid fans of Google Chrome, and Firefox Mozilla. Moreover, I use both of these for all of my browsing and downloading needs. And if you are like me, you would be installing extensions & plugins every now and then. To tell you the truth, installing lots of extensions on both browsers could not only lead them to slow down, but eventually crash. Also, extensive toolbars, plugins and add-ons, create a messy environment.
Most of these extensions are useful, but the nagging ones like Babylon and Ask, which users hardly use anymore come pre-packed with several freeware programs, most of which get installed during the installation process. If you want to get rid of useless toolbars, add-ons and extensions and manage everything from one place for all of your browsers, then you really need to give a try to Auslogics Browser Care.
Auslogics Browser Care, a freeware to manage everything from one place
Auslogics Browser Care is a free and an excellent tool that performs various tasks for you such as deleting unwanted add-ons and extensions, cleaning up temporary browser data and managing the extensions for all browsers. I personally know how tedious and hectic of a task it can be to get rid of unwanted add-ons, extensions and toolbars. After using this program, I have managed in saving a lot of time and hassle.
Intuitive User Interface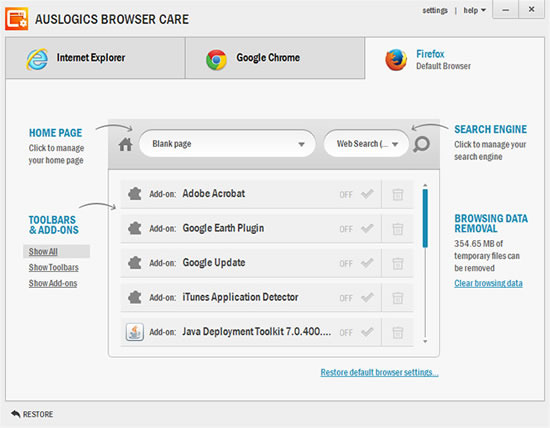 It has a stylish and powerful user graphical interface. All 3 supported web browser tabs can be seen on the top as shown in the screenshot. Close all of your browser windows and start the program. It would scan browsers for installed add-ons, plugins, and extension, alongside browsing history, cookies and temporary files. Once the scanning is completed, you would see a list of items detected for that specific browser. You can select from Show All, Show Toolbars and Show Add-ons for as per your own convenience. You can clear the entire browsing history by clicking the Clear Browsing data as shown on the right side.
Browser Care also allows you to uninstall an extension or plug-in or simply turn it off when you click at the buttons named OFF and Trash.
You can also change the default search engine of your browser through this free app. I have personally enjoyed using this application and hope you would do too. I highly recommend in giving a shot to Auslogics Browser Care, a freeware app supported on XP, Windows 7 and Windows 8.