There are several security & system tools available online. Want to know the 3 most important tools you need for Windows? Read on for more details
We cannot compromise upon the security of our system. Given our online hours have been increasing consistently over the past years, having programs important for PC security are crucial these days. With so many different system utilities and security tools, it actually gets difficult for an average user to select the best & most important tools for Windows. Keep things simple, here are 4 top programs you would always need to keep your system protected:
Reliable Antivirus program
Whenever you have performed a fresh installation of your operating system, the 1st application you should be installing before going online is an antivirus program. There are many available such as AVG Free edition, Norton, and Panda, etc. A virus from a trusted extension such as Adobe flash player is enough to put your system's security at risk. Although no antivirus provides you with 100% protection, you need to be careful of what you are downloading. Only go to trusted sources to download legit files. An antivirus provides you with some sort of protection and additional measures to keep your system safe from being attacked.
Microsoft Security Essentials is free and does all the work for you. No need to actually buy an expensive, fully-fledged antivirus program. Another recommend programs are AVG and Avast! free editions.
Backup programs
Regardless of how secure your system is, you never know when your hard disk can get crashed to leave you frustrated with lost data. Don't want to be in such a situation? Then you should have a backup solution ready to cope up with emergency situations. Many people, including geeks hate backing up their data until they lose files after their systems get crashed.
Use cloud-based backup solutions like Dropbox, and Skydrive, etc. or Windows built-in feature of data backup and recovery. It is important that you regularly backup files without which you cannot live.
Windows and software update
The everyday software that we use such as Windows, browsers, and plugins are full of security loopholes. These holes are consistently found by the manufacturers due to which security updates are then released online. It is important that you constantly update your software to combat the security loopholes. Without being up-to-date, there are high chances that your system can be put at great risk. It is crucial that your updates get automatically downloaded and installed in the background. Many of our avid readers disable automatic updates, but we highly recommend not doing so.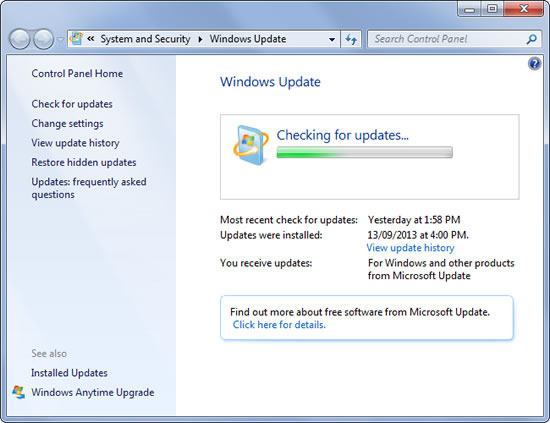 Conclusion
Trust us, if you are an average PC user, above are the 3 most important types of security & system tools you need to install on your system. Forget all the hype online such as registry cleaners, and PC speed optimizer. These are useless programs many companies try to trick you in purchasing.