If you're a Mac fan, you also need a Mac dock for Windows 7! We previously showed you a couple free Mac Docks for Windows 7, but here's another great one for Windows 7 that is rocking the house – including some very nice Mac OS X "Snow Leopard" skins:

The Mac dock I'm talking about is called Rocketdock and is one of the best Mac docks out there. The creators say it does not support Windows 7 64-bit yet, but it's working flawlessly on my 64-bit system, so you should definitely give it a try!
Mac OS X Skin
You can download plenty of skins for the Rocketdock. One of the skins is a Mac OS X skin: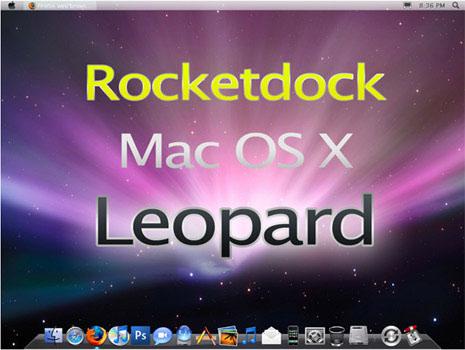 Tons of Dock Skins
The default skins of the Rocketdock are pretty beautiful too:


Where to download the Windows 7 Mac dock?
You can download the Mac dock "Rocketdock" for Windows 7 over at http://rocketdock.com .
Mac Dock for Windows 7 64-bit
The download page says that it's not fully compatible with Windows 7 64-bit. This is not fully true, although I suppose that you could run into errors on Windows 7 x64. If you, do you might want to try out one of the following 2 free MAC docks that fully support Windows 7 x64.
More Mac features, gadgets and themes
If you're a Mac fan, also get the following things: