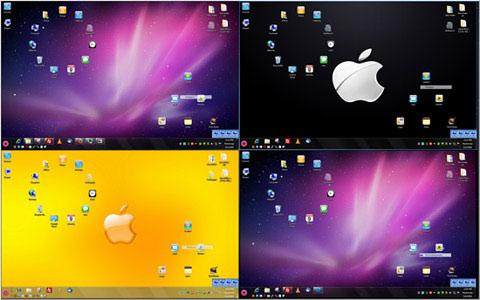 Like Expose for Windows 7? If you want MAC Spaces for Windows 7 as well, there's no official clone, but there are plenty of good virtual desktop solutions that can do the same as Spaces, here's one of them!
The MAC OS X feature "Spaces" allows you to have many virtual desktops, so that you can use to assign a dedicated desktop to each task, e.g. work / games / videos / surfing the web. Yes, there are 4 different desktops on the image above and each one has a different desktop wallpaper and icons (well, it can have different icons).
The virtual desktop tool called "Dexpot" gives you up to 20 virtual desktops that you can use for your applications. It's working much like Spaces on a MAC and fully supports Windows 7.
A pretty handy feature of Dexpot is that you can preview all Windows of a desktop (preview grid much like Expose):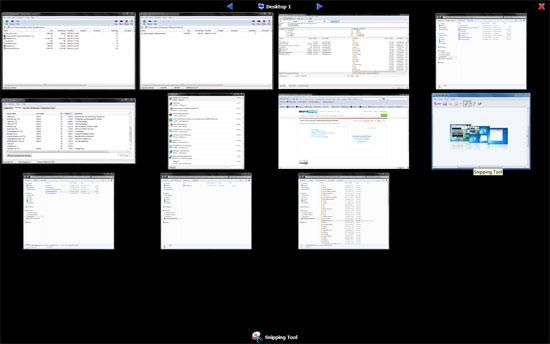 The full-screen preview is also very useful, but does not list all of the currently opened windows:
There's also a smaller preview window and a dock for your virtual desktops that you can use to quickly switch between them: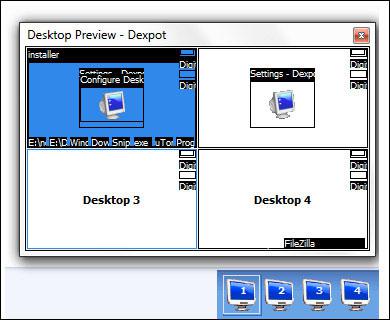 How to Customize EACH Virtual Desktop (up to 20)
You can set a different background wallpaper, screen resolution and even customize the desktop icons for each virtual desktop! How to do that?
1. Step Right-click on the tray icon, click on Settings
2. Step Click on the button Switching Desktop (blue big button in the sidebar)
3. Step Check the options: Customize desktop icons, Customize backgrounds and Customize screen resolution
4. Step Right-click on the tray icon and click on Configure Desktops
5. Step Go to the tab Background and browse for a new wallpaper
6. Step Click on Apply
7. Step Repeat step 5 for each virtual desktop that you want to customize
8. Step After applying a new wallpaper switch to another desktop shortly. When you switch back the wallpaper will be changed!
As you can see, Dexpot is an advanced tool much like MAC's Spaces and can easily compete with Spaces.
But there's more. Advanced users of Dexpot can define rules for each desktop. You can close, minimize or move windows or even set the transparency and much much more.
If you activate the plugin (Settings/Plugins&Extras/Dexcube) Dexcube you will even get a fancy 3D cube when you switch between the virtual desktops: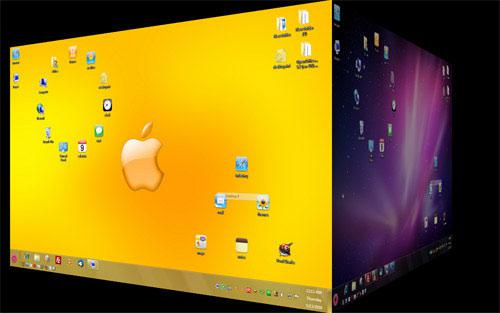 Moving windows between the virtual desktops is also very easy. Simply right-click on a windows and move it to another desktop: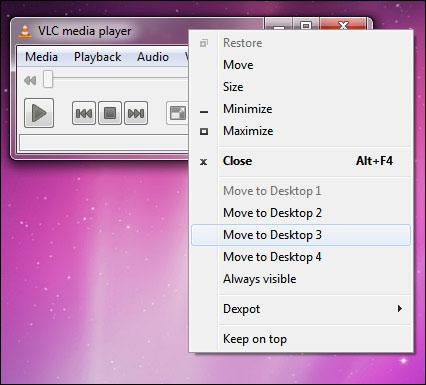 Download MAC Spaces for Windows 7
You can download the unofficial MAC Spaces for Windows 7 over at http://www.dexpot.de/. It's totally free, supports both Windows 7 32-bit and Windows 7 64-bit and is definitely a must-have for every MAC fan and productivity guru.
Alternatives
There are many alternatives that you could use as a replacement for Spaces. DeskScape and the Vista/XP Virtual Desktop Manager are both good alternatives to Dexpot. You can review both virtual desktop manager tools here: Virtual Desktop Manager with 3D Cube