In order to increase your SSD longevity and optimize the SSD performance it is recommended to disable the disk write caching. Disk write caching is not required on SSD's (there is no cache on it).

Without cache, write caching is not necessary. Also, as you can read above a power outage will have less dramatic consequences. I still need to do some research on this, but it might be even recommended to turn off write caching for your backup HDD drives. Backup drives don't require a cache, because they are only accessed for backups, so it might be safer to turn off the write cache and prevent possible data loss on all your drives when there is a power outage. Usually, when there is a power outage nothing happens and if something happens you usually only loose data that is currently accessed, but I'd want to be better safe than sorry.
Ok, let's disable that write cache on your SSD:
1. Step Click on Start
2. Step Enter compmgmt.msc into the search field and hit enter (or right-click on Computer on the Start Menu – then on Manage)
3. Step Uncollapse System Tools
4. Step Click on Device Manager
5. Step Now in the right pane, uncollapse Disk Drives
6. Step Right-Click on your SSD drive and click on Properties
7. Step Go to the tab Policies
8. Step Uncheck "Enable write caching"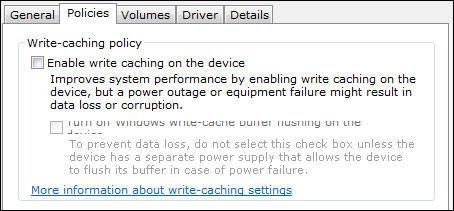 As you can see there's a graphic bug on this tab and the text below is barely readable. It says something like "Turn off Windows write-cache buffer flushing on the device" – which is not recommended and can cause data loss.
Now, the disk write caching is disabled on the SSD. This is safe to do, but there is a discussion weather or not this will actually speed up your SSD or not. I will have to do my own testings on this one before I can comment on it.