WinLogOnView keeps track of all the logons and logoffs from your Windows PC. If you suspect someone is using your computer without your permission, now you have a record of it.
Basically, it taps the Windows Security Events log to find dates and times of logons and logoffs. You don't to install the program. It is so light, all you have to do is run the executable file, and off you go. Anyone can use it because the user interface is so simple.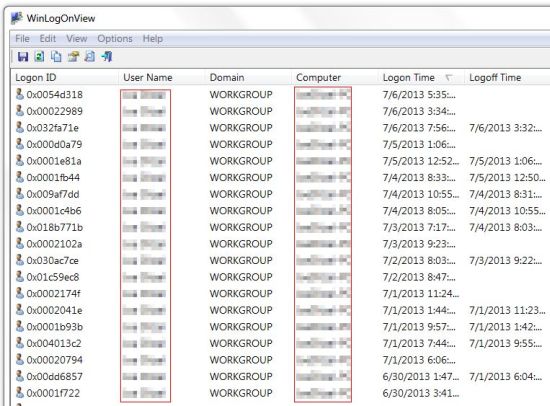 You get a long list of every user session, domain, logon time, logoff time, the network address, computer and the length of the session. If you want to download the data for use in another program for further analysis, you can export to several different file types: HTML, XML, comma-delimited and tab-delimited.
Report Options
You'll find reports under the "View" selection in the menu bar. You can get full reports, or highlight the data you need and just pull that segment. Alternatively, you can copy the data directly into a program like Microsoft Excel.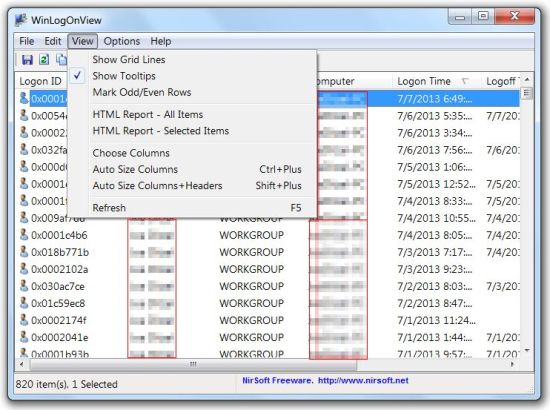 Remote Computer
WinLogOnView can access the same information on a remote computer. Click "Advanced Options," or press F9, select "Remote Computer as the source, and enter the name of the target computer. Similarly, you can select "External Disk" as the source, and then enter the path of the event log. The event log is often found at C:\Windows\System32\winevt\Logs.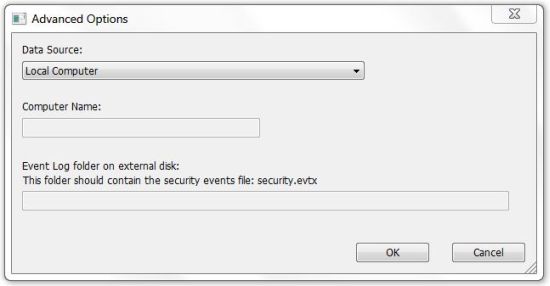 Limitations
The accuracy of the data shown is based on the accuracy of the Windows Security Event Log. If any data is missing or corrupted, it will not appear in the report.
Nirsoft is really just one guy, Nir Sofer. He develops all the software and runs the operation by himself. He started the company using Tripod as his host. (Remember Tripod?) Now he gets over 1.5 million hits per month from people looking for his popular utilities like MessenPass, Volumouse, and ProtectedStorage Pass View. WinLogOnView is the latest in this string of useful utilities. It only does a few things, but does them well.
WinLogOnView works with Windows Vista, Windows 7 and Windows 8, both 32-bit and 64-bit. The reason older Windows operating systems are not supported is because the relevant data was never added to the security event log.