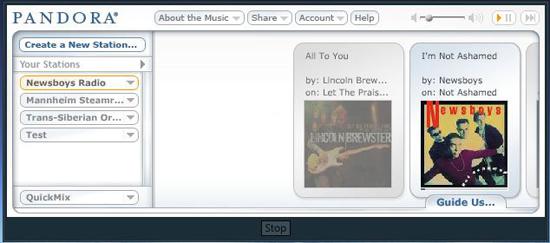 Pandora is a great service for all music lovers.
If you want to access Pandora on your desktop, you should grab the Pandora Gadget for Vista, because it's working on Windows 7 as well
Download Pandora Gadget
The official pandora gadget can be found here
Pandora Gadget on Windows 7 x64
If you are running Windows 7 x64 like me, you will have to tweak your system a little bit. Because Adobe did not add x64 support for flash you won't be able to use the gadget on your x64 system without enabling the x32 gadget sidebar.
To enable the x32 Gadget sidebar, simply do this:
In the System Tray right-click on the Gadget Sidebar Icon. Click on Properties!
Make sure to uncheck the "Start Sidebar when Windows starts" option
Open the Explorer and Browse to C:\Program Files (x86)\Windows Sidebar
Go to Start – All Programs and right-click on the folder "Startup". Open it in a new window.
Now drag and drop the sidebar.exe from C:\Program Files (x86)\Windows Sidebar into the startup folder
Voilà, now the Windows x32 Sidebar will auto-start whenever you log into Windows
Btw, the screenshot above is of an old Pandora Gadget and not the official one. The official Pandora gagdget will look slightly different!