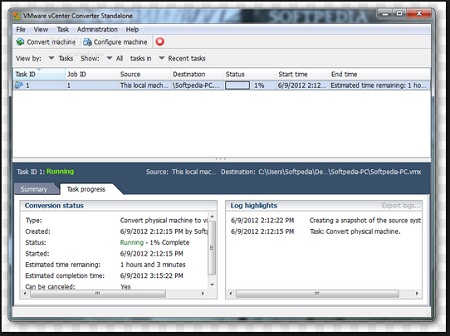 Installing files from one Windows PC to another is not always an easy task. If Windows Easy Transfer is too slow for you, here are a couple alternatives that you should try
Windows Easy Transfer is a program that is integrated into Windows 7 and 8, but it is also available for XP and Vista users via download. It is essentially a quick way to transfer files from one computer to another. However, there are some users who do not like the interface or who would simply like additional options. This is where alternatives like the ones listed below can come in very handy.
1) VMWarevCenter Converter
VMWarevCenter Converter is a program that covers everything Windows Easy Transfer does with a few nice additions. It allows the complete automated transfer of virtual machine contents in one easy-to-use setup. You can convert physical or virtual machines to other physical or virtual machines without any disruption in operation or expensive downtime. This means that the product is especially helpful for IT managers who are looking to provide simple conversions without disrupting production or business efficiency.
2) Zinstall XP7
Zinstall XP7 is typically chosen for personal use, but many of the features it provides can also be used in a network setting. Its primary purpose is to move an entire Windows system—including applications, files and even user settings—to either another PC or the same PC during operating system upgrades. This means that single users who want to upgrade in-place can rest assured that all of their files and settings will be recovered in the exact same manner, thereby providing a nearly-identical user experience after the upgrade.
3) PCMover
PCMover is another easy-to-use tool that provides users the ability to move programs, files and settings from one PC to another or even to the same PC during upgrades in place. This is a paid service just like others, but there are plenty of price options from which users can choose. A professional product is available for immediate download on the company's website, but those designed for business or enterprise use will require users to contact the company for a quote. This quote will be provided based upon the number of systems in the network and the software that is needed to perform the job.
4) Profile Migrator
Profile Migrator is a bit different, but it serves as a great alternative to Windows Easy Transfer in larger corporate settings. Its job is to transfer user profiles—things such as individual desktop profiles, installed programs and more—on various servers and clients and even from clients to servers. Migrations of any Windows-based system are easy and quick since the program provides step-by-step walkthroughs. In fact, this software is preferred by IT technicians since there is absolutely no guesswork involved. In just a few simple clicks, everything is ready to use. Best of all, it provides access to settings for multiple computers that Windows Easy Transfer simply cannot make available.
Whether a single user or an entire network is upgrading or switching operating systems, there are plenty of suitable alternatives to Windows Easy Transfer. These programs can switch entire operating systems or just a few files according to the users' settings and preferences.