Everyone who's using the synchronization features of Windows 7 should know the location of the offline files in Windows 7. If the offiles files folder is getting too large, you could remove some of the offline files or move the offline files folder to another partition.


Offline Files Location
All of your offline files are stored in a Windows folder sub-folder. The location of the offline files folder is:
Location: C:\Windows\CSC
There's usually a subfolder in there called "v2.0.6", that's normal. If you can't see the folder, you'll need to change your folder options and make sure that hidden files and folders are shown. If you don't know how to do it, read our tutorial: How to show hidden folders in Windows 7 .
How to view offline files
If you can't view your offline files, you can always find your offline files via your sync center.
1. Step Open your Sync Center (Start/All Programs/Accessories/Sync Center) and click on "Manage offile files":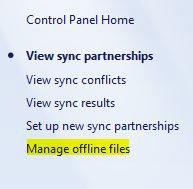 2. Step Click on the button "View your offline files":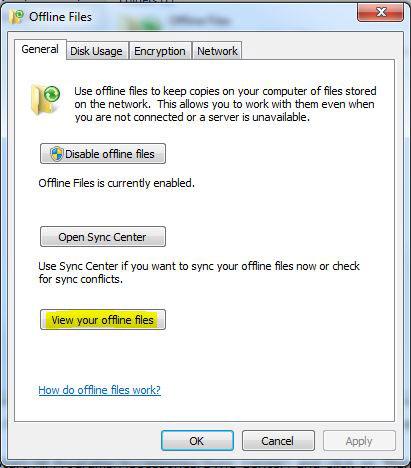 Disable Offline Files in Windows 7
If you want to disable offline files in Windows 7, you can do that via the syn center. Read our tutorial here.