Trying to figure out what all the different processes are in Windows can be challenging even for the most experience
What Is CSRSS.exe
So what exactly is CSRSS.exe? CSRSS is abbreviated from Client./Server Run-Time Subsystem. It is essential and should be running at all times while your operating system is running.CSRSS is what is known as the "user-mode" portion of the Win32 kernel.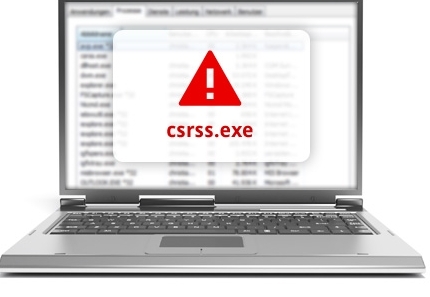 CSRSS is behind console windows,creating & deleting threads. It also responsible for implementing some of the 16 bit MS-DOS environment. Want to know where to find where CSRSS.exe is located on your computer? The source CSRSS.exe file is founder under the System32 folder under the Windows folder on the root of your hard drive.
CSRSS.exe is often confused for a malware file but is of course a harmless Windows file.
Please note that viruses and trojans can look identical to csrss.exe, masking their real identity. Only advanced users and professional anti malware programs such as Malwarebytes Antimalware can get detect those infections properly. If you dont want to use that, here are
3 Malwarebytes Antimalware alternatives
A common issue with CSRSS.exe is that it appears to be using 99 – 100% of CPU. This guide will show you how to rectify this.
Step By Step
1. Step This problem usually occurs when you're Windows Profile some how becomes corrupted.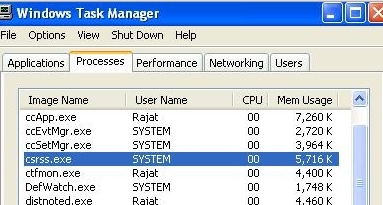 One obvious way around this is to delete and recreate your Windows Profile. The first thing you should do is backup all files from your My Documents folder as these will be erased during the process. To be extra safe you should backup all data you are afraid of losing.
2. Step Log out of the account with the CSRSS.exe issue and login through another account on your computer – if you have only one account you can create one quickly by using the Control Panel.
3. Step Once logged into the alternate account – right click on My Computer and access Properties.
4. Step Under the Properties windows – click Advanced tab. Under Advanced you should now click Settings which should be viewable under the User Profiles.
5. Step The final step is to simply delete the account that is causing the High CPU load and you should be back on track!
Conclusion
CSRSS.exe is a harmless process and should not be mistaken for spyware, Trojan or a virus. Yes – like pretty much any component in the make up of Windows is prone to corruption and causing some issues. In some cases – anti virus programmes can pick CSRSS.exe up but you should not delete the process and instead follow the steps outlined if the file becomes corrupted.