Are you getting this error on login? Try these steps to fix the issue on Windows Computers.
"The User Profile Service Failed The Logon"
If you currently have or in the past received a "User Profile Service failed the logon.User profile cannot be loaded." it may be due to a corrupted user profile or guest temporary profile.
It can be quite frustrating not being able to access all your documents under your user profile while still being able to logon on to the guest account for general usage.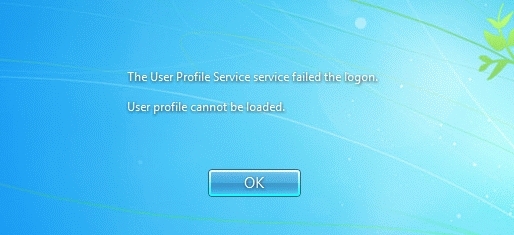 This can happen if Windows does not log on or read the user account you are trying to access correctly. This may be due to running a program before logging out that has corrupted the login process and in all cases the first step you should take is to restart your computer and repeat the login attempt.
There is another fix however and it requires you to log on to a registered administrator account.
Follow this step by step guide to get access back to your User Account.
Step By Step
1. Step
First step is to log into your computer but you will need to use an Administrator account or one with Administrator level privileges. This may need you to reboot the computer in Safe Mode to access such an account.
2. Step
You will now need to access your computers registry. Run "regedit" from the Run window which can be brought by holding the Windows key and R at the same time.
You might be prompted for UAC at this stage but click yes and proceed.
3. Step
Once you have opened up the registry go to HKEY_LOCAL_MACHINE\SOFTWARE\Microsoft\Windows NT\CurrentVersion\ProfileList .
Here you should look for the SID Key which is ranked from S-1-1 and the one with a long number ending in .bak.
Click this when you find and check the ProfileImagePath value to the right. Here you can check if this is the user account that is causing the error.
4. Step
With the two SID keys that are associated with the User account that is causing problems – select the one that does not end in .bak and right click on it.

Next rename it and add a .bk extension to the end before pressing Enter.
5. Step
Next, right click on the SID that does end with .bk and rename this so that the .bak extension is removed and it emulates the SID of the previous step before we edited it.
6. Step
This gets a little confusing now so be careful with this next step. Rename the original SID key that we previously ended with .bk to .bak and press enter.
7. Step
Now right click on the SID that is associated with the affected account and click Enter. Remove the .bak and in the right pane you should now click New and DWORD (32 bit) Value.
Next type RefCount and click Modify.
8. Step
Type 0 into the Value Data textbox. In the right side right click on the value and select Modify once more and Type 0 again into the Value Data textbox and click OK.
Conclusion
You should now try logging into your problem account again. First restart your computer and repeat the login process and if you followed the steps outlined correctly you should be able to login okay.
It is a weird issue to happen in Windows and any guide that involves editing the registry should be very carefully implemented to avoid any undesired effects or even more problems in the future.