Expecting an important package, and looking for a handy tracking gadget? Just input your consignment number and go!
What a handy gadget! Once you put in your consignment number, this tracker will immediately look up the information on your package and tell you where it is and the estimated date of delivery! At-a-glance tracking right on your desktop!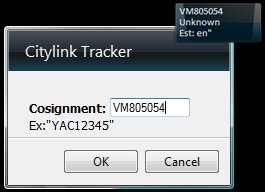 It's incredibly simple to input your consignment number and start tracking! Just click on the "options" button and type in your number, and the CityLink Tracker will do the rest!
File Download
You can download this file here – keep in mind that this does only work on Windows 7