Windows has a built-in Voice recognition software that allows you to issue some commands. The technology has been around a few years, and is becoming more accurate as the price for 3rd-party software declines, and more people are going to make much more use of the feature in the very near future.

Update: If you have some spare money, consider buying a professional speech recognition software such as Dragon Naturally or one of the alternatives. We have also reviewed some free and open-source alternatives
Controlling Your PC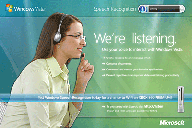 You can make good practical use of Windows Voice recognition software, and with some practise, you will be able to edit and create documents, as well as control some functions on your computer. The set up is not too difficult, but you will need a headset and a microphone.
You must train the application to recognize your voice, as well as to detect your microphone.
Built-In Speech Recognition Options
1. StepClick on Start and from the Control Panel, double- click "Speech Recognition Options".
The first tutorial teaches the commands needed with speech recognition while it also trains the software to recognize your voice. .
2. Step Navigate to configure your Speech Recognition experience and click on Set up microphone link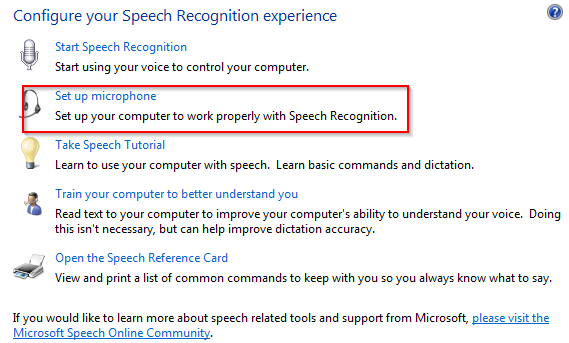 It is highly recommended that you use a headset microphone for best results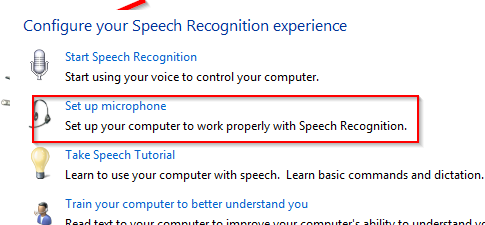 3. Step Adjust the mic volume by reading to 2 short sentences

4. Step You can improve the accuracy of speech recognition by enabling the application to scan documents and learn the words that are commonly used. The list of commands that the application recognizes can be printed for a quick reference.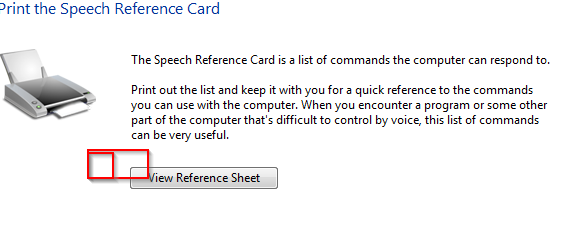 5. Step After setting up your microphone you will be able to control your PC with your voice.
The status of the application is readily noticeable with the small window that appears when the application is activated.
Saying "stop listening" puts speech recognition into "sleep" mode; and it awakes when you say "start listening"

Dictate Your Documents: Auto-Transcribe Into Word
You can also use the Voice recognition to dictate your documents as your speech is automatically transcribed into text on a Word pad file.
A tutorial and extensive training is included that teaches the application how to better understand your voice and it also helps you to interact with the computer.
Use the reference cards so that you will know the right commands that can be used to control your computer. It is also easy to add new words to the vocabulary.
You can also vary the voice that responds to the commands that are issued on the Speech Properties Dialog box.
Select the text to speech tab and adjust the voice properties.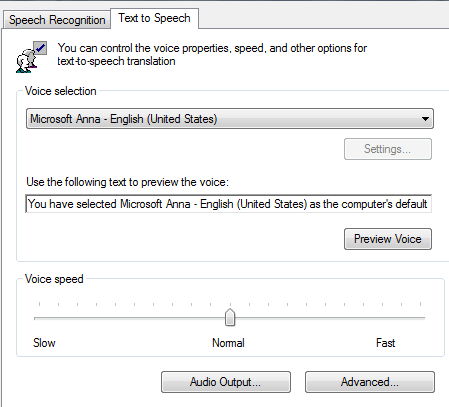 Conclusion
Voice recognition can save a lot of time. It may take some practice, as a lot of the typing errors can be eliminated. It can help with your speech, as you learn to enunciate and speak clearly. It can help with your thinking, as you can practice meaningful sentences, while thinking actively.
The dictation feature helps you to transcribe your notes, into readable text that can be distributed to a multiple number of people.