Did you recently upgrade to Thunderbird 3.1.4? If so, your Thunderbird might have stopped sending emails. Is that correct? Here's the solution.

Thunderbird comes with a pretty useful error console. So, open up the error console (Tools/Error Console) and hit the send button. Nothing will happen, but you will know the error.
My error message was:
Error: An error occurred executing the cmd_sendButton command: [Exception… "Component returned failure code:ffff (NS_ERROR_UNEXPECTED) [nsIFileProtocolHandler.getFileFromURLSpec]" nsresult: ffff (NS_ERROR_UNEXPECTED)" location: "JS frame :: chrome://autoresizejpeg/content/AutoResizeJPEG.js :: anonymous :: line 421" data: no]
Source File: chrome://global/content/globalOverlay.js
Line: 100
First, I thought the error was somehow related to Google Chrome, but it appears it's the Spamfighter extension.
Solution
There's an easy solution to send out mails again!
1. Step Click on Tools, then on Add-Ons: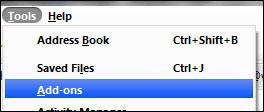 2. Step Go to the tab Extensions and disable all add-ons, especially Spamfighter:


I hope this will help someone who wonders why he/she is no longer able to send out mails. It's pretty annoying actually, a mail program that can't send out mails…
Unfortunately, Spamfighter only works properly with Thunderbird 2.0 and not 3.0. Also, Spamfighter does not work with Windows Live Mail. So, basically we need Outlook if we want any decent spam protection.