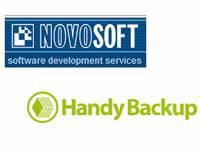 Novosoft is a company known for its data protection solutions and it is currently working on a backup software for the upcoming Windows 8.

Novosoft Successfully Tests Handy Backup Software On Windows 8
Initial tests of the Handy Backup software application for Windows 8 have been successful, reports maker Novosoft. These were first round of tests being run on the Windows 8 version of the software and it went well for all aspects of Windows 8 back, according to the company.
The software covers all major types of back up for Windows 8, including backup to cloud and Windows 8 Disk Imaging — fully supporting each option, as per the company statement. The software testing was done on the pre-release version of Windows 8 called the Windows 8 Consumer Preview. This is the current build that is officially offered by Microsoft.
Novosoft's next step is to evaluate the software for enterprise use. They announced further tests that will cover areas like Windows 8 Enterprise Network Back up and distributed control — features that large businesses would appreciate immensely and one that their respective employees would soon have to become familiar with.
Handy Backup supports both Windows 8 and Linux. Novosoft is currently working on support multiple platforms as well as supporting mixed-OS networks such as Linux and Windows. The company is current testing Centralized data protection for Windows 8. Handy Backup is currently a Windows 7 certified software and it will probably apply for Windows 8 certification before it is launched on to the market.
Software companies like Novosoft are currently all working on software updates that will make it to the market to be in time for the official launch of Windows 8. According to the majority of rumors, Windows 8 is likely to be released in October this year and most companies have been aligning themselves for Windows 8 centric release around that time.