Windows 7 comes with a built-in mortgage calculator, vehicle leasing calculator and fuel calculator. So, if you want to calculate your home loan, down payment, monthly payment, purchase price or the term (in years), you no longer need any 3rd-party tools! Handy for basic mortgage calculations.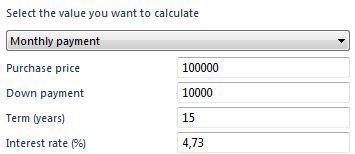 1. Step Open the calculator: Click on Start, All Programs, Accessories, Calculator
2. Step Click on View, Worksheets and select "Mortgage":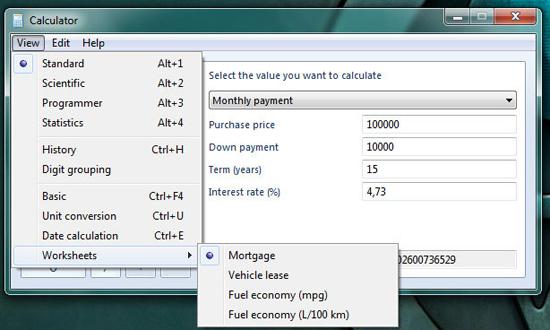 Now, you're ready to some mortgage calculations: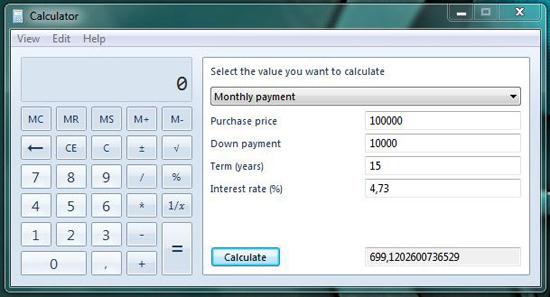 So, let's say your purchase price is $100,000, your down payment 10% ($10,000) and your mortgage term 15 years at a fixed interest rate of 4,73% (typical home loan rate), then you simply enter the values into the Windows 7 mortgage calculator and it will calculate your monthly cost. In this example: $699,12 per month. That's how you can easily do some basic mortgage calculations. Of course, it's recommended to use some external tools as well, but for some first very basic calculations the Windows 7 mortgage calculator is definitely a handy tool.
Thank you Microsoft for the mortgage worksheet! Microsoft also included some other useful calculator worksheets for vehicle leasing and fuel economy calculations. Useful.
Additional Information about Home Loan / Mortgage Calculations
If you need additional information about home loan calculations, you will find some tips over at our network site homeloanrates.info (for sale):
http://homeloanrates.info/home-loan-calculations