You might be aware of the fact that Windows 7 Home Premium does not include a remote desktop host.

A remote desktop host is needed so that other people can connect to your PC via a remote desktop connection. Here is a workaround what you can do on Windows 7 Home Premium to allow other people to connect to your PC.
A VNC (Virtual Network Computing) software allows you to connect to other PC's or setup a remote desktop host. So, all you need is a VNC software that supports Windows 7 Home Premium.
VNC Client for Windows 7
You can establish a remote connection through a so called VNC software. There are many great VNC software providers out there that also allow you to setup a remote desktop host, but not many support Windows 7 yet. UltraVNC is one of the best VNC tools that supports Windows 7.
Download Ultra VNC:
Download UltraVNC X32 1.0.8.2 Full
Download UltraVNC X64 1.0.8.2 Full
Installing UltraVNC
When you install UltraVNC make sure to install the server drivers! The server drivers are needed in order to setup a remote desktop host on your PC: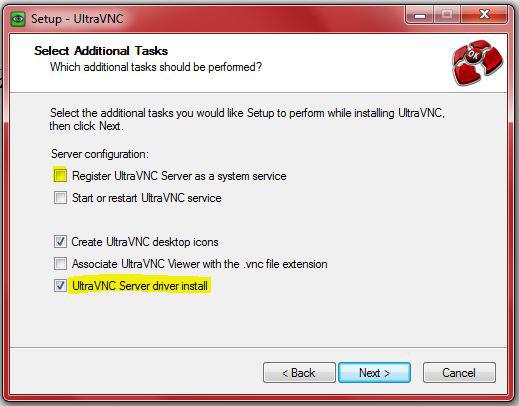 Optionally, you can register UltraVNC as a service, which might not be a bad idea if you want to use it regularly.
After installing UltraVNC, you will find the following .exe files in your UltraVNC directory:

Double-click on winvnc.exe to start your VNC server. Make sure to change the default password!
Configuring VNC
If you have any problems installing or configuring UltraVNC Server, you should read the documentation or ask a question at the official VNC forums. A common mistake is that many forget to forward the UltraVNC ports. You will have to configure your firewall and your router to make it all work.