As you may have noticed, Google recently updated Chrome and introduced some very user-unfriendly changes to the account switcher that make it really tedious to use.
Update 25 July: Unfortunately, the tweak below no longer applies to the latest Chrome version. However, you can now right-click on the username at the top right and all users will appear
Recent Changes Unacceptable
I was invited to some Chrome UI testing a while ago, but unfortunately did not have time to attend or else I would have told them not to change the account switcher: In the latest Chrome version it can take up to 3 clicks and several seconds to switch an account. That's really not acceptable.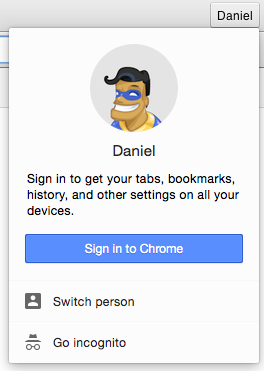 You first have to click on the account viewer, then on Switch Person, then select your account on a dashboard. This is considerable "work" and if you are a poweruser totally unacceptable. The old switcher allows you to change accounts with two clicks and is more efficient.
Restoring Old Account Switcher
1. Step This is what the old account switcher looks like – Awesome!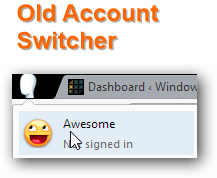 2. Step In order to restore it, enter the following into your address bar:
chrome://flags/#enable-new-avatar-menu

3. Step Select Disable from the dropdown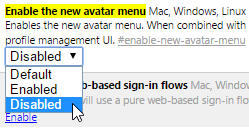 4. Step By doing that you will no longer be able to lock accounts, however there's a workaround
5. Step (OPTIONAL) If you don't need the avatars to quickly identify accounts and want to be able to switch between accounts very quickly you can enable the "fast user switching". Enter the following into your address bar:
chrome://flags/#enable-fast-user-switching
6. Step Enable this option and restart Chrome
Spartan: My Big Hope
Although I like Google and Chrome, I have high hopes for Microsoft's upcoming browser Spartan. Spartan is exactly what Microsoft needs to compete with Chrome: A liteweight alternative to IE that supports extension. I would switch without giving it a second thought if Microsoft creates a browser that has multi-account support, is fast and has a bunch of extensions for web developers (Firebug, Alexa, Color Picker, etc.).
What are your thoughts on Chrome and Spartan and what browser will you use in the future?