If you want to minimize windows to tray in Windows 7, you can grab a few tools that will allow you to do it. Here's a freeware tool and a shareware tool that both can minimize a lot of applications to system tray, e.g. Firefox, Chrome, Thunderbird, Skype, Windows Live Messenger.

Quick Links:
How to minimize windows via tricks (workaround for some apps)
Yep, there are plenty of applications that you might want to minimize to tray. For example, Thunderbird, Outlook, Skype, Windows Live Messenger, Aim, Windows Media Player, Windows Live Mail. So, let's check this out.
How to minimize windows to tray via PowerMenu (FREEWARE)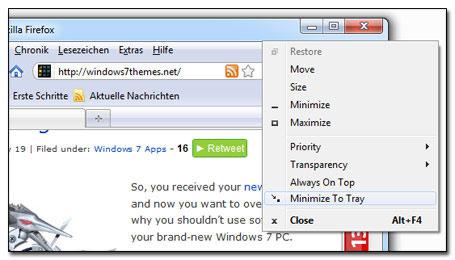 A great FREE app that allows you to add the option "Minimize to tray" to the context-menu is PowerMenu. You can grab the lightweight portable tool here: Download PowerMenu Portable
You can't minimize all applications to tray, but most of them. For example it's no problem to minimize Firefox to tray or minimize Filezilla. However, you can't minimize Google Chrome to tray or 7zip. The transparency option (another option added to the context menu by PowerMenu) isn't working very well on Windows 7, so better don't use it at all.
Pros:
Free
Minimize Firefox
Minimize Windows Live Messenger
Minimize Thunderbird
Minimize many applications with few exceptions
Cons:
Minimize to tray does not work on all windows, e.g. Skype or Chrome
Minimize to tray option requires right-click, no "minimize to tray button" available
Minimize to tray via Actual Window Minimizer (Shareware)
If you have some spare money, you could also give another shareware tool a try that is free for 30 days. It's developed by ActualTools.com and works flawlessly on Windows 7!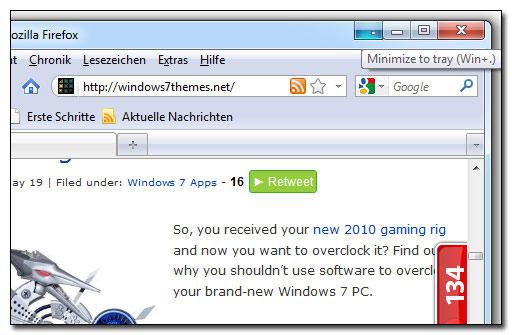 Pros:
Minimize ALL windows to system tray
Minimize Firefox
Minimize Outlook
Minimize Windows Live Messenger
Minimize Windows Live Mail
Minimize Windows Media Player
Minimize Chrome
Minimize Skype
Minimize Thunderbird
Minimize etc.
Adds a minimize button to all windows (!)
Adds shortcut to minimize windows to tray
Cons:
How to minimize Windows Live Messenger or Skype to tray (free method)
Some applications can be minimized to tray by running them in Vista compatibility mode. One of those applications is the Windows Live Messenger, another Skype (if you check option "keep in taskbar" in skype settings).