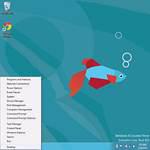 Want to Know How to Install Windows, Without Having to Figure it Out Yourself? Here's a Handy Guide
Setup tool or ISO? Either way, you're covered. If you are considering to install Windows 8 Consumer Preview using the USB/Download tool please read this guide: How to install Windows 8 Consumer Preview via USB
Windows 8's setup, through direct download, ISO or DVD
Installing a brand new, not-final version of an operating system isn't for everyone. For starters, there are going to be bugs and the occasional error despite the comforting name of "Consumer Preview." This is still a beta, and as such needs to be approached with caution, so here's a guide on a how to get started with Windows 8 (some information from The Verge).
Using Web Downloader
The setup tool is the easiest way to install the Windows 8 beta, as it guides you through the process as quickly as possible.
1. Step Head over to Microsoft's website and download the Windows 8 Consumer Preview, which is an EXE file. Open it up to begin.
2. Step There will be a check to see your computer is compatible. Once that's done, as long as you meet the minimum hardware requirements, you should be fine to continue. Take note, however, if you are doing an "in-place upgrade".
3. Step The setup tool will then say it's ready to download, and will get you a product key. You shouldn't need it, but write it down. Click next, and the Windows 8 Consumer Preview will begin to download. The amount of time this takes depends entirely on you're connection;
The Verge said "on our speedy office connection, the download took us less than 10 minutes."
Installing via ISO
Tip: Even if you do not intend to use the Web Downloader above, it is recommended to run it once to get a compatibility report for a Windows 7 to Windows 8 Upgrade
For those of you who want to install via an ISO file, you can. There are 32- and 62-bit versions, which will take up around 2.5GB and 3.3GB for the 32- and 64-bit versions respectively. The install process is:
1. Step Download the ISO
2. Step Find a USB, DVD drive or DVD disc that is 4GB in size or greater. Burn the ISO to where you want it
3. Step If you're using a USB drive, you'll need to download Microsoft's app that can create bootable thumbdrives from their store (see link at top). DVD users can just right-click on the ISO and click 'Burn Image Disk'
4. Step Once done, eject where ever the ISO has been burned on to and put it back in.