iOS 7 has been out for a little while now, but it is only recently that iOS users are once again capable of jailbreaking their devices. If you use an iOS device and want to know how to jailbreak it, here is a quick and easy guide.
Is Jailbreaking Legal?
Yes, Jailbreaking is perfectly legal but you can no longer update your device. Jailbroken devices are 100% unsupported. It's recommended not to do it unless you have a very good reason
Why Jailbreak Your iOS Device?
Those unfamiliar with the jailbreaking scene may be wondering what the whole process is about. Simply put, jailbreaking your iOS device allows the user to install and customise their device beyond Apple's limitations.
Some of the benefits include being able to install customised themes, access new apps that aren't on the marketplace, free tethering and overall more control over your device. There are some aspects of jailbreaking that you should be aware of before you proceed however. Due to some of the apps not been screened by Apple ,it does open up security risks, and in some cases there may be instability problems. For the most part though, jailbreaking is safe and entirely reversible if needs be.
So if this sounds good to you and you own an iOS device – here is how you go about jailbreaking your iPhone, iPad, or iPod touch.
Step 1 – Check iOS Version and Download Jailbreaking Software
Before you start, check your iOS version. If it is between iOS 7.0 and 7.0.4 then you will be able to carry out to jailbreak. If it is below these versions you should upgrade to a suitable software version.
For this guide we are going to use the jailbreak tool created by Evasi0n, who also created the easiest jailbreaking solutions to previous iOS versions.
PC Jailbreaking Software
https://mega.co.nz/#!xtUw3QaC!DtaNWFLUr9SroeG6OWg5t2s9a6EkD-qNqsb4amiRX3o
Mac Jailbreaking Software
https://mega.co.nz/#!ktMTkSwZ!fxcFv2wDaDTpHBBmXRAZ-3NlwAJgPNqa3Gi-WDe0O7M
Step 2 – Back Up Your Device And Set Up Jailbreak
Once you have made sure you have a compatible device and you have the software needed,back up all your iOS devices data just in case. Install the jailbreaking tool and launch it on your computer. Click confirm and wait for it to open.
On your iOS device ensure that you do not have a passcode setup as this can cause some problems. When ready connect your iOS device to the computer and the software should recognise this. Remember to select "trust" on your device if prompted.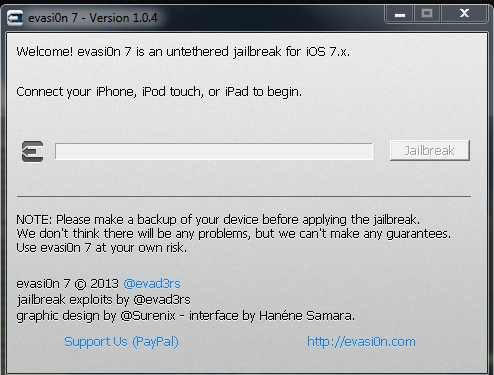 You are now ready to begin the jailbreak.
Step 3 – Carry Out iOS 7 Jailbreak
To carry out the jailbreak simply click the jailbreak icon and proceed. Around half way through, you will be prompted to check your device for the installation of the EvasiOn app.
Locate the app, which should be on your last home screen. Start the app and your device should reboot. The jailbreaking process will now finish and don't be alarmed if your iOS device reboots a couple of times during the process. Once successfully completed the software will prompt you with a message stating that your device has successfully been jailbroken.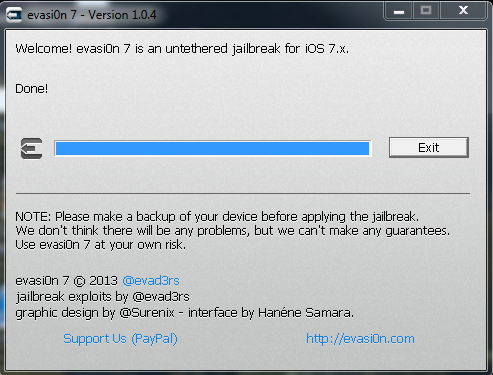 You can exit the software once this message is recieved.
Step 4 – What Next For Your Jailbroken Device
On your newly jailbroken device you should see an app called "Cydia". This app is more or less a replacement for the App Store and features a lot of jailbroken applications, themes and other options.
The new jailbreak for the iOS 7 is still relatively new so there are still applications that do not support the new software version. Don't worry though, as these will be updated in the near future , if they are not already updated as in most cases.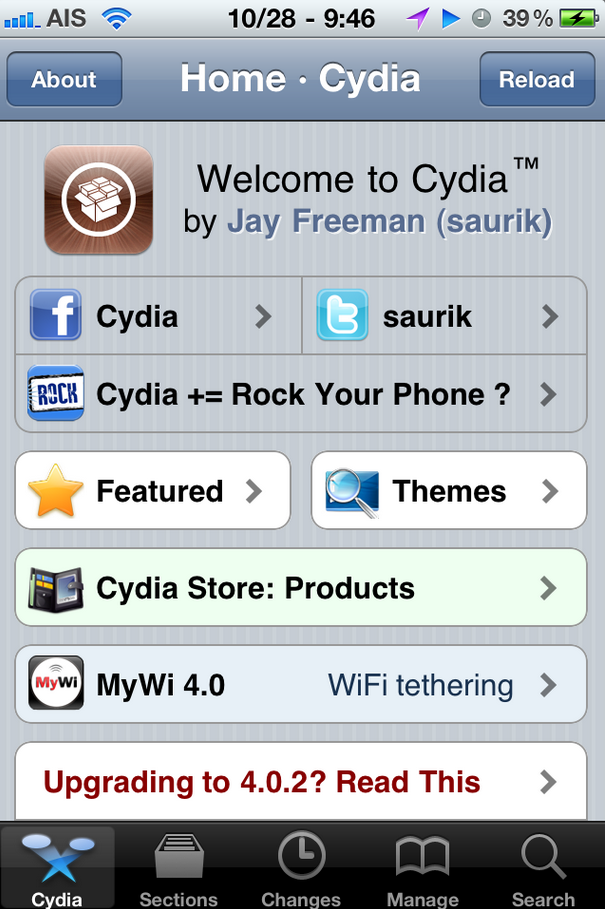 My advice is to first download a file explorer, so you can copy and paste different documents along with view files on your phone. After that it is up to you to decide what exactly you want on your new jailbroken device.