Do you want to rip and convert all of your favorite DVD's to use them on your iPod? Digiarty Software is currently giving away their WinX DVD to iPod Ripper Special Edition for Windows 7 for free (10 days left).
Retail price: $24.95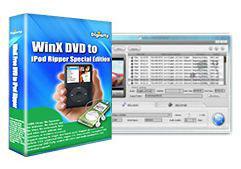 Converting your DVD to iPod becomes really easy with this free DVD Ripper. Actually, you only have to insert your disk, chose a format and start the ripper.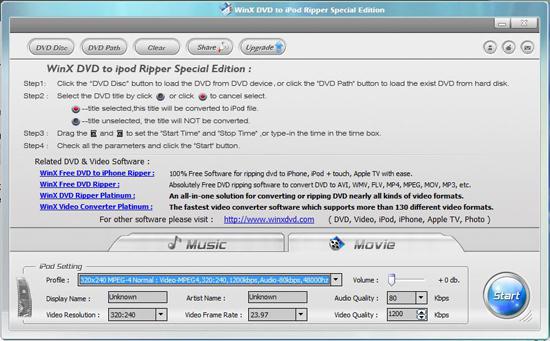 For iPod Movies WinX DVD provides several formats, ranging from MPEG4 (normal) to MPEG4 (excellent).
Of course, you can also convert all of your Music DVD's with it.
High-quality DVD rips:
If you want to convert in high-quality, you should tweak the following settings:
Audio Quality (Default: 80Kbps)
Video Quality (Default: 1200Kbps)
Video frame rate (Default: 23.97)
1200Kbps is excellent web quality, but might not be excellent quality for offline devices. As for the Video frame rate, consider that NTSC is 30fps and PAL is 25fps, so changing this to the frame rate of your DVD could help you to maximize your quality.
I would simply adjust those settings just as you need them.
Calculate movie file size on iPod
Unfortunately, there's no file size preview, but as a rule of thumb you can use the following formula:
Movie file size in KB = (Video bitrate + Audio bitrate) X (Runtime DVD/8)
How to copy protected DVD's?
Normally, movies like Transformers 2, Star Trek 2009, UP, Avatar, Twilight are all protected with new generation copy protections, there are rarely solutions to fix it. Not even WinX DVD to iPod Ripper can copy protected DVD's. However, Digiarty Software made a special edition of WinX DVD to iPod Ripper that can backup these protected DVDs to iPod for personal use easily and quickly.
Download DVD to iPod Converter
10 days left from now! So hurry up.