If you are in the process of migrating to Windows 7, you might want to take a glance at Handy Backup. Handy Backup is a great backup and recovery solution for end-users and businesses alike. This handy migration tool is one of the best out there!

Better safe than sorry
Everybody knows that installing the operating system requires attention, careful preparation and planning. According to the Strategic Research Institute in New York about 33% of PC users suffer from data loss annually. Especially the installation of a new operating system could cause a lot of trouble when you forgot to backup your most important settings, emails or databases.
You probably know that Windows 7 developers strongly recommend installing the system from scratch, on a clean hard disk, instead of upgrading your system. That's where Handy Backup comes in handy (what a word game!) :
Handy Backup is an award-winning data backup and disaster recovery software that will help you to migrate to Windows 7 more securely.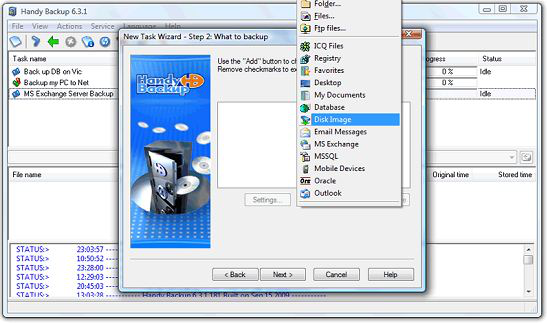 Backup important settings
Handy Backup allows you to move documents, applications and their settings into the new system unchanged, including:
"My Documents" folder + entire structure of files and folders
Internet Explorer and Mozilla Firefox favorites + Settings
E-mail, including Outlook, Outlook Express, Mozilla Thunderbird and The Bat! (all messages, accounts, address books, etc.)
Backup Photoshop, Dreamweaver, Total Commander, etc.
HandyBackup comes in handy (haha) whenever you want to backup your applications. It can fully backup
a number of popular applications like Adobe Photoshop, Dreamweaver, QIP, Skype, Total Commander.
Backup Databases
HandyBackup can also create backups of entire database:
Database backups including MySQL, MS SQL, Oracle, DB2 and many others
Support for all devices
The program supports backup on all common media and removable devices (CD / DVD, USB flash, HDD, FTP / LAN). Just in case, you can copy a distribution of Handy Backup to the backup media.
Flawless System Restore
The backup is very easy to do and even beginners will figure out how it works in minutes:
Once you install Handy Backup, connect the backup drive, create a new restore task, select the destination and run it. In a few minutes all your documents, applications including all your settings and databases will be in a new place without the slightest change and ready to work. In addition to the automatic transfer of documents, you will appreciate the fact that you don't have to waste hours to set up email accounts, graphics editors and database management systems.
Next Update: Backup MS Exchange 2010
Assistance in the migration to Windows 7 is just one of many useful applications of Handy Backup. The developers of the program (Novosoft) are currently working on new features that will allow you to backup and restore  MS Exchange 2010.
Get the Trial
Award-winning backup solution
Translated into more than 20 languages
Microsoft certificates: "Compatible with Windows 7 and Vista"
You can download a full-featured 30-days trial by clicking the following link:
Download Handy Backup.