John Y., one of our readers today came up with an interesting question – he wanted to restore the Windows 7 clock gadget because he accidentally deleted it. Of course, he does not have to reinstall Windows 7 to get that sidebar gadget back!

Unfortunately, I unintentially uninstalled the Windows 7 clock. Is there any way of retrieving it or do I need to reinstall Windows 7?
So, let's restore that gadget! The solution is surprisingly very easy
1. Step Click on Start and enter restore gadget into the search box: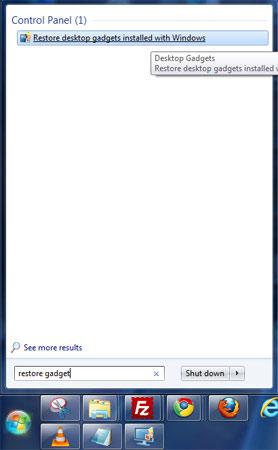 2. Step Click on the item at the top "Restore desktop gadgets installed with Windows"
3. Step Windows will automatically restore all uninstalled gadgets that are normally installed by default.
Optionally, you can restore the gadgets in the Sidebar Properties, but the method above is a bit easier and faster. Also, if you happen to have to problems with the gadgets in Windows 7, you might want to run sfc.exe in order to restore all original Windows system files.
I have described the whole process how to use sfc.exe here: Repair System Files
If you have any questions how to do this or that in Windows 7, post your question somewhere on the site!