So, you want to want to know how to record what you hear in Windows 7? It's definitely possibly, although some people will not be happy if I tell you how to do it.

It is possible Microsoft removed the entry "what you hear" from Vista and Windows 7, because people started recording what they heard online instead of buying iTunes or other stuff online, although it is completely legal to record what you hear. Possibly they are preventing legal battles this way.
0. Prerequisites:
Before you can actually follow this tutorial, you will have to read another tutorial. If you actually want to install the tools we are using in this to tutorial to record what you hear, you will most likely encounter the error message:
Windows requires a digitally signed driver
I wrote a very detailed guide that will teach you how to install drivers that are not digitally signed.
Read it here: How to install unsigned drivers
1. Install Virtual Audio Cable for Windows 7
Virtual Audio Cable is basically capable of transferring audio from one device channel to another, although it's only a virtual audio device.
Download Virtual Audio Cable (XP/Vista/7/2000/2003, 32+64-bit)
In order to install Virtual Audio Cable on Windows 7, you will have to read the tutorial above (see prerequisites!)
2. Make Virtual Audio Cable Default Device
In order to record what you hear, you have to make the virtual audio cable your default playback device.
Open up the Control Panel and click on "Sound":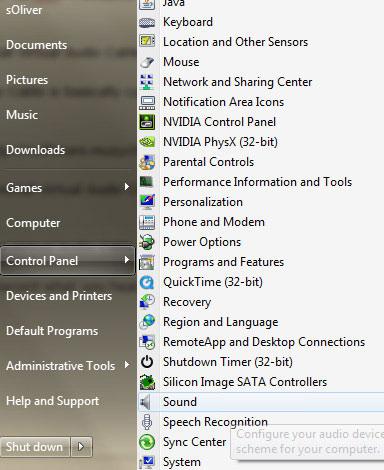 On the "Playback" tab, scroll down the list until you find the entry "Line 1" (Virtual Audio Cable):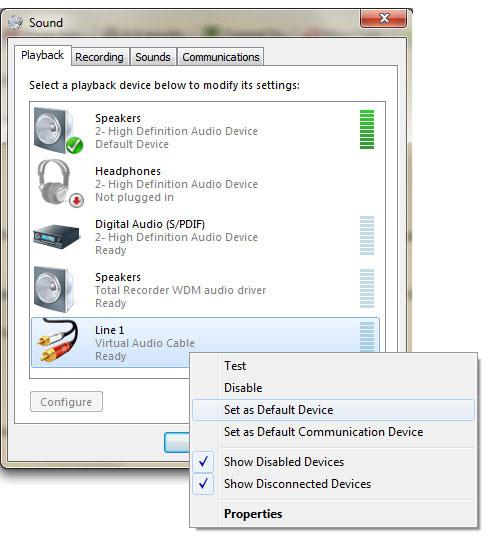 3. Play Your Music
Now, the easy part, start your favorite music player and open whatever you want to listen to. I decided to open up the stream 977Music Classic Rock via VLC:
Playing: Bad Company – Movin' On (1974)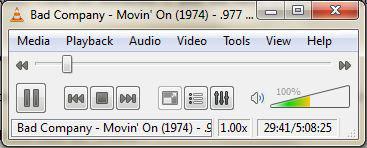 You will hear that you hear nothing at all. That is 100% correct! Unfortunately, the "easy" method doesn't allow you to listen to the music, but at least you can record it (and that was probably what you were trying to do, right?). If you want to listen to the music and record it at the same time, I'll soon publish a 2nd part of this tutorial for advanced users. Please bookmark our site if you want to find out how to do it.
4. Record what you hear
Next, the final step! So, to record what you hear (or what you don't hear), you need a recording tool. My favorite freeware solution for recording music or podcasts online is "Audacity". The latest beta 1.3.7 supports Windows 7 and can be downloaded from sourceforge:
Download Audacity for Windows 7
1. Step After installing Audacity, open it and hold down "CTRL + P" (or go to Edit -> Preferences).
2. Step From the dropdown field "Recording device" select "Line 1 (Virtual Audio Cable)":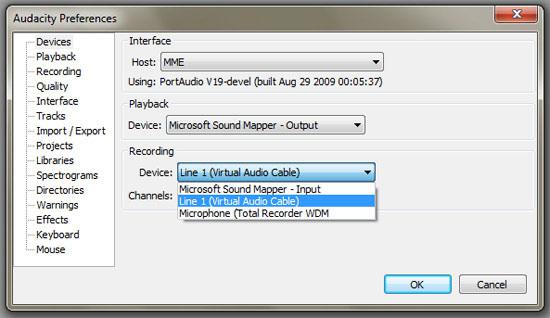 3. Step Confirm with ok and finally push the red recording button. In order to record what you hear you have to push the button every 108 minutes! (ok, just kidding).
You should now see that Audacity is recording your music: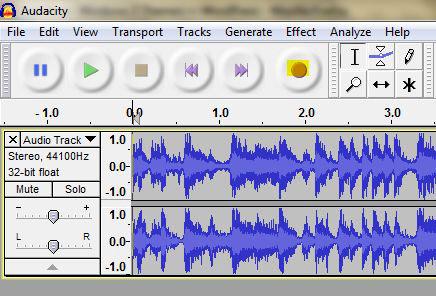 Voilà, you are recording what you hear, only that you can't hear it yourself. But if you own a laptop, you can simply do all of this on your laptop, record what you "hear" and still listen to your music at the same time!
Advanced: Listen + Record & Stream music to other PC's
VLC allows you to stream music to other PC's in a network. A tutorial that will teach you how to do it will follow shortly.
If you have any ideas, requests, questions, feedback or anything else to say, let us know!