The AVG Internet Security 2011 can be quite a resource hog. If you want to fix the high CPU that the avgchsvx.exe is causing try this.

First of all, I recommend to uninstall AVG and re-install it to see if the problem persists and update to the latest version of AVG.
AVG is known for scanning quite a lot and using a lot of resources on the go. AVGIDSagent.exe and AVGIDSMonitor.exe are two other exe files that can cause a high CPU load.
Two things you need to know:
avgcsrvx.exe – Resident Shield
avgchsvx.exe – Optimizes scheduled scans / cache (can be deleted if you don't want/need it)
Delete avgchsvx.exe
One "workaround" solution is to simply delete the avgchsvx.exe – which will stop it from causing a high CPU load, but it will obviously stop some functions of AVG as well.
High CPU Fix: Disable Scheduled Scans
Often, AVG is causing a particularly high CPU load when it's scanning your machine. Are you sure there are no scheduled scans running in the background?
Try to disable all scheduled scans and then see if the problem is still there:
1. Click on Tools, Advanced Settings
2. Uncollapse Schedules and then click on each subitem and uncheck "enable"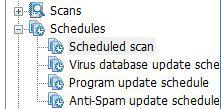 High CPU Fix: Disable Resident Shield, Link Scanner, Outlook Plugin
You may want to disable some key components that you might not need. In particular the resident shield, link scanner and outlook plugins are not always needed and can cause extremely high CPU spikes.

Do you have any other suggestion how to fix CPU spikes? Post below!