This is another guide for beginners who don't know how to save a reg file. Since you will find quite a lot of registry keys with manual installation instructions on the site, this is knowledge that you will need.

1. Step Copy the registry key "text", e.g. via CTRL + C
Windows Registry Editor Version 5.00

[HKEY_USERS\.DEFAULT\Control Panel\Desktop]
"Value"="1"
2. Step Open a notepad instance and insert it via CTRL + V
3. Step Click on File, then on Save as
4. Step Select All files from the dropdown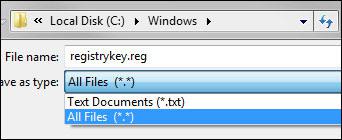 5. Step Enter a name for your registry file and enter the extension .reg (for registry)
6. Step Done. You have successfully saved a registry file. You can now add the key to the registry with a simple double-click on the reg file.