Does the message Internet Explorer has stopped working pop up after launching IE? To fix this annoying error there are various steps you can take to get rid off the error for good.

Here is a complete overview of all methods to try, I suggest you read through them to get an idea of what most likely applies to your situation. In most cases, faulty extensions, corrupt drivers, incorrect configurations of either firewalls or IE or faulty 3rd-party software is to blame and can cause the message to pop up.
---
1 Most Reliable Solution: Disable Internet Explorer Add-Ins
Go to Options -> Manage add-ons -> Disable toolbars and extensions one by one
The most reliable way to make IE work again is to disable all Internet Explorer add-ins that may prevent your browser from working properly or reset the browser (see method 2). However there can be other factors like an overly protective antivirus that cause the error to pop up. Some people have reported problems with Windows Update KB2699988.
Basically there are 9 methods that you could try to fix the error message "Internet Explorer has stopped working". The steps are usually the same no matter what version you use. We have added some new screenshots from IE11 as well.
2 How Do You Reset Internet Explorer Settings?
Read this first: Resetting the IE settings will also reset all of your browser add-ins and customizations. Also, all of your stored passwords, your stored cookies (logins!) and the entire browser history (what sites you visited) – if you are frequently using IE, you may want to write down passwords and websites first. However, bookmarks and feeds are NOT deleted. Nonetheless, you should make sure you know all the passwords to log into your favorite websites before resetting the settings
1. Step Click on "Tools", "Internet Options"
2. Step Go to the "Advanced" tab and click on "Reset". Read the warning message and confirm if you want to proceed: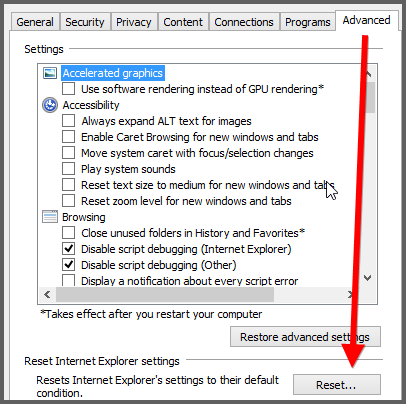 3. Step You will get a warning message, read it carefully: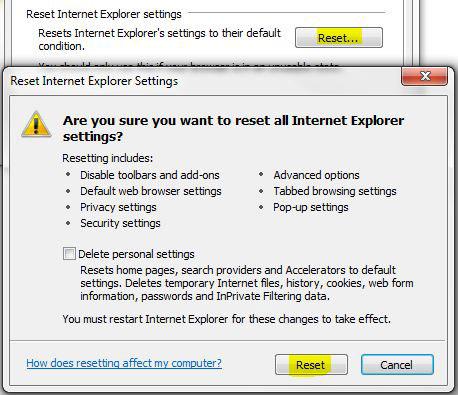 Please note that this will work the same way on older IE versions and does not depend on the Windows version you are using, Windows Vista, 7, 8 – but if you experience it on a Technical Preview version, there may be other factors involved.
IE11 Users
If you're using the latest IE11, try this, follow the steps above, it's the same in the latest IE version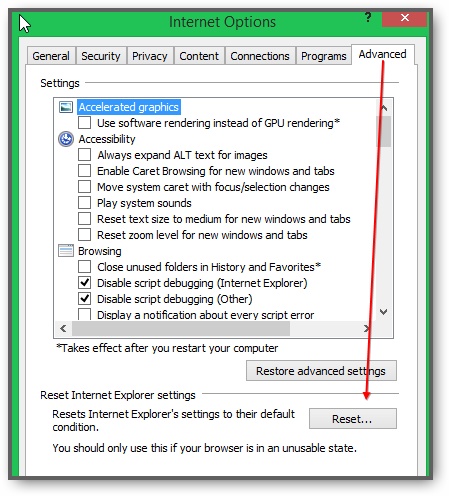 3 Start IE In Safe Mode With Extensions Disabled
Sometimes, IE11 crashes right after you launch it. When that happens, you are obviously incapable of disabling any add-ons. Hence, you need to start IE in safe mode first and then you can disable extensions.
1. Step Create a desktop shortcut for the Internet Explorer
2. Step Right-click on the shortcut on your desktop and click Properties
3. Step Go to the tab Shortcut and at the very end enter -extoff
4. Step Click Apply and you should see this (if you don't, repeat 1-3 more carefully!)

5. Step Now open the add-on manager (Gear icon-> Manage add-ons) and disable all
6. Step Remove -extoff from the shortcut and start IE again, now enable only the extensions you really need one by one and always try to trigger the error "has stopped working" by visiting a page that gave you the error.
4 Fix APPCRASH: Register DLL files
Various modules can cause IE to crash and stop working while you're browsing webpages, including Flash, then you'll see the error pop up along with more crash details (click Details button).
If you see the problem event name APPCRASH in the problem signature along with a fault module name Flash, you will most likely be able to get rid off the error by updating Flash.
Similarly, if you see other module names here, you can update other programs that cause the browser to crash.
Commonly reported modules causing issues
jscript9.dll
Flash10e.ocx
ieframe.dll
mshtml.dll
bhoclass.dll
d3d9.dll
ntdll.dll
kernelbase.dll
igdumdx32.dll
msvcrt.dll
msvcr110.dll
ole32.dll
oleaut32.dll
urlmon.dll
…
jscript9.dll for example could indicate a problem with Javascript on that specific webpage.
Flash.ocx indicates a problem with Flash.
d3d9.dll indicates a problem with your graphic card D3D drivers.
IMPORTANT: Sometimes dll files simply get corrupt and/or require re-registration. Using regsvr you can register DLL files again.
Example:
regsvr32 urlmon.dll
More info about registering DLL files
Please make sure to replace the DLL if you get any errors that indicate a missing DLL file. We are currently preparing a DLL site where you will be able to download some of them, but often a re-installation of the program will work wonders.
5 Disable Protected Mode
Read this first:
Disabling the protected mode may expose your browser to additional threats. Disabling should only be a temporary solution to fix the problem if IE keeps popping up the "has stopped working" window. Generally speaking, if you have a decent anti-virus/anti-malware software such as
Malwarebytes Antimalware
it will be of no harm to disable it, but you can also try some of the other methods after trying this fix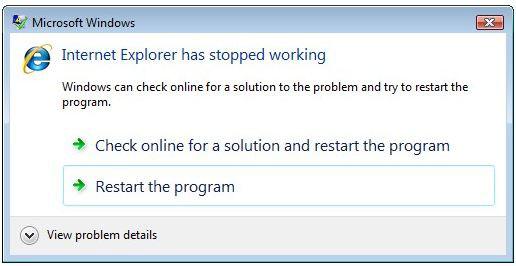 1. Step Click on "Tools", "Internet Options":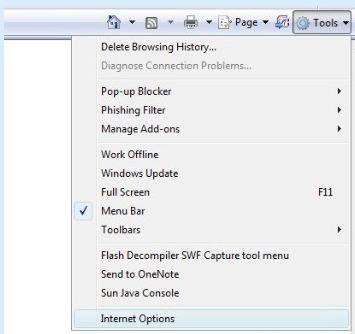 2. Step Go to the tab "Security" and untick the option "Enable Protected Mode":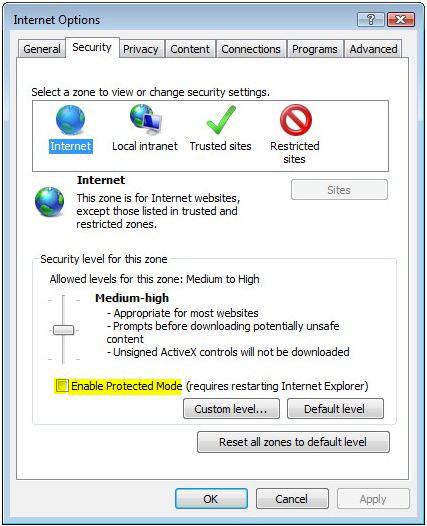 3. Step Restart the Internet Explorer.
6 Disable Internet Explorer Hardware Acceleration
Many extensions and video platforms such as Flash can cause your browser to stop working. A poorly scripted webpage with Flash and SilverLight code can make the most weird error messages pop up. You will either get a message saying that IE is not responding or it will stop working completely and crash with an error or right to desktop.
Aside from poor scripts, Flash and other extensions can use hardware acceleration and run into certain issues on certain websites. Unfortunately IE is very sensitive to these script errors and often crashes whereas other browsers would simply render the page, something Microsoft will hopefully address in its next browser.
1. Step Click the gear icon and click on Options
2. Step Go to the tab Advanced, at the very top, check the option Use software rendering instead of GPU rendering to turn off hardware acceleration
3. Step Click Apply and see if this fixes the issue. Your browser may be slower due to software rendering but you can actively prevent crashes due to graphic card driver problems. In any case, you should always make sure to update your graphic card driver to the latest version
7 Switch Your Browser: Chrome, Opera or Firefox
Last, but not least, if none of the solutions above are working for you to get rid of the "has stopped working" error, then consider switching your browser as a last resort
Try another browser, like Firefox, Opera or Google Chrome. Sometimes it can happen that you encounter errors in the Internet Explorer that do not appear in other browsers. We recommend Opera to browse our site
8 IE Still Not Responding? System Restore / KB Updates
If you keep getting errors and IE is not responding, there are a bunch of ways how you can fix it, we suggest you try a few until something works for your specific problem. The most common problem are toolbars, but corrupt video card drivers can also cause major problems (see below)
Disable Toolbars
Disable Addons
Restore system via system restore
Reinstall Windows 7
If You Uninstall Any KB Updates, Turn Off Automatic Updates
Obviously, re-installing Windows would take a long time. As suggested above you should first try to create a new user account. If that works, you can go through the other steps one by one to see what is causing the issue
9 Re-install Internet Explorer (XP-only) And Upgrade To IE11
Before a complete re-install you may want to try method 1 or method 2 first
You could try to re-install the Internet Explorer. If you are still using IE 7,8,9 or 10 then you are urged to upgrade to the latest version IE11.
Make sure you see this picture when visiting the link below. If you don't you may not have the latest version: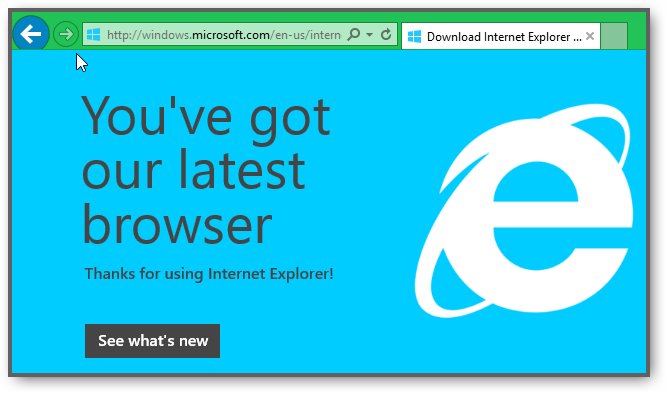 10 Temporary Workaround: Creating A New User Account
If none of the methods above work, don't throw in the towel just yet, you can
create a new user account
on Windows 7 and see if other accounts are also affected. If not, this may be a possible workaround until you have found a permanent solution
If none of the methods above help you to fix the error and you are still receiving the message "Internet Explorer has stopped working" frequently, you could re-install your OS as a last resort, create a new user account, disable all add-ons that you currently use, disable all toolbars or try a system restore in Windows 7.
11 Update Drivers
If the error still pops up, make sure to update your drivers. Do you have an old video graphic card? That might be an issue, update your drivers
Uninstall video card drivers
Update Intel drivers (motherboard
Download and install Windows Update KB2670838
Upgrade to IE11
Remove Windows Update KB3008923
As mentioned, this problem MAY be a video card driver problem for some. Apparently, there are some glitches with certain video cards
Also, try starting your PC in safe mode , then open the Windows troubleshooting tool. We have a great guide on how to troubleshoot internet connection problems in safe mode
System Administrators: Turn Off Automatic Windows Updates
If you are system administrator, you may find various KB updates that may cause this specific issue. For example, KB3008923 seems to be causing issues on some machines.
In any case, if you remove any KB updates, turn off auto-updates or the KB will be re-installed.
Windows 8 Users
Although IE11 that comes with Windows 8 is pretty stable you can also encounter the "has stopped working issue" on Windows 8 and 8.1 – when you do, we suggest you inspect the errors mentioned above and then see if you have the correct Java version installed. It is also a great idea to temporarily disable Javascript
Still problems? Let us know your exact problem in the comments and what you have tried so far.
12 Video Guide On Avoiding IE11 Crashes
An update on recent developments and how you can quickly fix any crashes or problems with your browser:
In general, you should carefully review patches to your security software when issues occur or turn off automatic updates so you can verify that updates are not the root cause of your problems.
13 IE11 And Norton Update 21 [2015] February Crashes
On the night from February 20 to 21 2015, Norton issued an update to its antivirus. This update crashes IE11 and possibly other versions. In order to fix the issue, you have to run the Live Update and update your Symantec products.
If that doesn't work for you, un-install Norton and install again or restore Norton to a previous version before February 20 using system restore. In any case, make sure you have the latest definitions and not the outdated from Feb20/21.
Read through our comments for additional input regarding Norton.