You can open Windows 7 themes to extract the content of the themes. This is only true for .themepack themes, not for .theme files. However, you can open .theme files with a notepad and change some of the theme settings.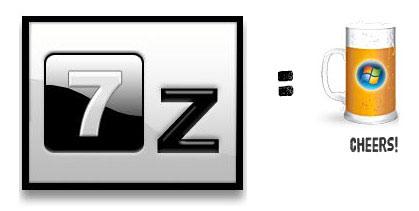 Tip: When opening themes, you can simply extract everything (as explained below) in the package and then point your DesktopBackground folder right to it. That's how you can transfer wallpapers quickly. All other files like icons and cursors will have to be applied manually
Opening Windows 7 theme ".themepack"
The Windows 7 .themepack format is basically a zipped container that includes the actual .theme file, cursors, sounds, screensaver, desktop icons and information about the color scheme, so all you need to open the Windows 7 themes is a good zipping program that supports the file format. 7-zip a very versatile zipping program allows you to open the Windows 7 themes.
If you want to open any of the files inside a Windows 7 theme, you will need an icon viewer for the .ico files, a WAV editor for the .wav files, a scr viewer for the screensaver and a photo editing program for the wallpapers.
Want to know how it's supposed to look like when you're opening a Windows 7 theme?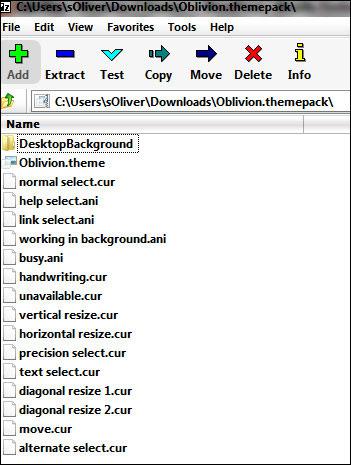 As mentioned above, a Windows 7 theme *can* include cursors and a folder DesktopBackground. It will always include a .theme file at the very least.
Opening Windows 7 theme ".theme"
If you're opening a .theme file with an editor, you will find system paths and other stuff that will tell Windows 7 where everything is stored:
[Theme]
[Control Panel\Cursors]
[Control Panel\Desktop]
[VisualStyles]
[boot]
[MasterThemeSelector]
[Sounds]
This can also be modified if you know what you're doing.