Are you frequently checking your Windows event logs to see who logged in? If so, you might notice a Logon Ide7. Are you curious what the Ide7 stands for? Let's take a closer look at it
When we inspect the Logon IDe7 a little closer, we can often find one process in the Logon event details: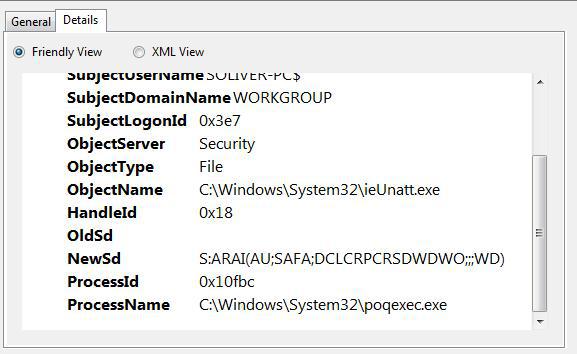 Do you see the ProcessName at the bottom: C:\Windows\System32\poqexec.exe
And the ObjectName: C:\Windows\System32\ieUnatt.exe
This gives us valuable insight into what the PC was doing at the time and why we should NOT be worried about the Logon IDe7
We explained in more detail what the poqexec.exe is in another post, but in short it is simply an executable that runs after an automatic reboot after a Windows update. It retrieves update instructions from a XML file stored in WinSXS to do its job.
The ObjectName ieUnatt.exe is probably an executable that updates the Internet Explorer unattendedly, but I would have to look it up.
As you can see, the Logon IDe7 is nothing to be worried about. However, you should do further research on this if you are genuinely concerned about your system security, it will help you to secure your PC in the long run. You may use our many Windows 7 security tutorials as a starting point , but we also recommend to visit the various .edu sites and wikis to get a better understanding.