One of the most annoying Windows 7 problems is the sound lag issue whenever you load a website, scroll down or play a DVD. Here is a possible solution to fix this
First: Remove All Sound Devices
1. Step Most sound lag issues are caused by sound drivers – if you are using a Realtek sound card (either PCI or on-board) then it is very likely that you are encountering the same issues as many others
2. Step Before proceeding first we are going to remove your sound devices via the device manager to make sure that all drivers are removed. Enter Device manager into the search bar on your Start menu and at the top open the Device manager

3. Step Now uncollapse Sound, video and game controllers
4. Step Right-click on ANY devices similar to High Definition Audio Device or Realtek High Definition Audio and click Uninstall (confirm the prompt!)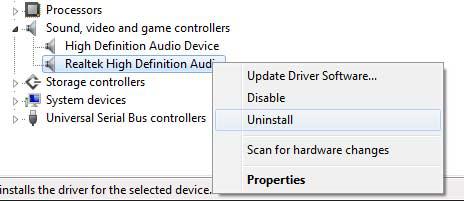 5. Step Repeat step 4 for all sound devices (keep your game controllers)
6. Step Reboot
Next, Install New Realtek Drivers
7. Step After a reboot, either download the drivers from our mirror links below or from realtek.com.tw
Make sure that you remove any Realtek software before installing them. Also remove any programs that you installed to modify your sound and sound effects. Often, poorly programmed sound software can lead to sound lag
After downloading the drivers, install them and reboot again
8. Step Now browse any websites, scroll and see if the sound lag is still there – in my case the sound lag was completely gone
Also the sound lag when playing DVD's disappeared.
If you still have problems, I suggest that you try an external sound card for testing purposes. Cheap PCI sound cards are available from $10. Also, create a new Windows 7 user account and see if the problem persists.
Still got problems? Let us know and maybe we can help you to fix your sound lags and sound issues.