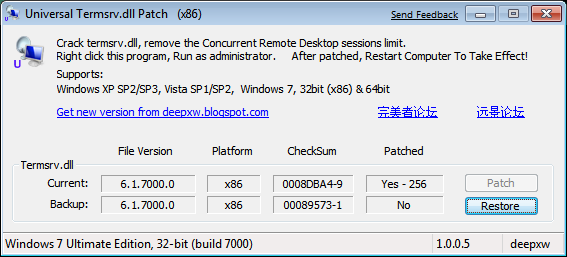 A Windows 7 feature that is disabled by default is "Concurrent remote desktop sessions". Basically, a concurrent remote desktop session allows several user to connect to a system trough the remote desktop feature, so multiple user can access and control your system.

By default Windows 7 has a session limit for remote desktop connections (simply because it's more secure) that only allows one simultaneous connection.
If you want enable multiple sessions, for whatever reason, then you got to patch the file "termsrv.dll".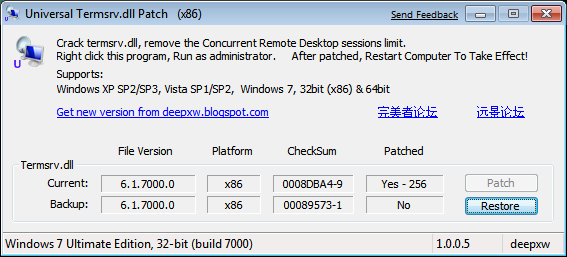 Deepxw, who is also the creator of the Universal Theme Patcher that allows you to install unsigned Windows 7 themes has developed an awesome tool that allows you to enable concurrent remote desktop sessions with just one click.
Make a backup of Termsrv.dll!
Make sure to create a backup of termsrv.dll before you apply this patch. It will automatically create a backup file before you apply it, but better safe than sorry! You can find the termsrv.dll here: C:/Windows/System32/termsrv.dll – copy it to a location that you regularly backup.
Original Termsrv.dll x64
If you need the original x64 termsrv.dll because you forgot to make a backup, you can download it here:
Download termsrv.dll 64 bit
Download Termsrv.dll Patcher
The patcher should work for XP, Vista and Windows 7 and will modify only your termsrv.dll. After downloading the patcher you need to run it with admin privileges: Right-click -> "Run as admin".
You can download the patcher here:
Download Termsrv.dll Patcher 32bit+64bit