This gorgeous and customizable clock looks great on your desktop! It shows analog time, digital time, and even the date! Different time zones can be used
This is a really great-looking clock. It's sleek, modern, and stylish. The default clock face looks just like a wall clock, complete with a second hand! It also shows the digital time down to the second, along with an AM/PM designation and even the date! The second hand has a smooth animation that matches the look of a real wall clock!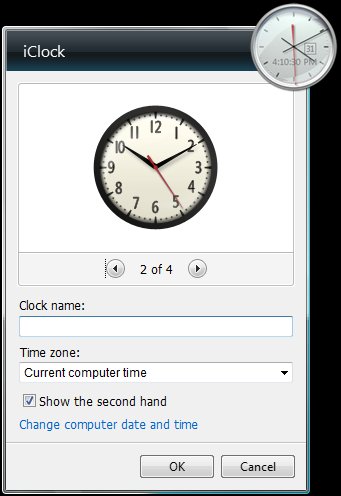 There are four different clock faces for you to choose from in the options menu. You can even name your clock, which will show up unobtrusively on the clock face. This gadget allows the time to be adjusted according to time zone, so it can show the time in a different city or country, if desired. The second hand display is optional, and the options window even has a shortcut to allow you to change or correct the date and time of your computer!
File Download
Should you need a clock on your desktop, this is your best bet – works well on Windows 7