You are considering re-installing Windows 8 but you don't have the disk any longer?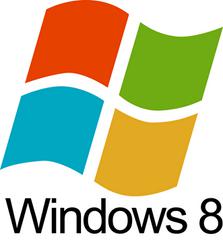 If you are an advanced user, then you might like testing the new Windows 8 Consumer preview. But things can go wrong and you end up breaking the system, then it would be a good idea to re-install Windows 8. In Windows 7 you needed a DVD / disk to reinstall the operating system, you need the installation disk.
Windows 8 has some awesome features that allow you to re-install the operating system without the installation disk, just like a factory reset. But the difference here is that all your data remains as it is, untouched by the re-installation.
Let's proceed with the reinstallation now and reset it
1. Step Press Windows + C to open the Charms bar, the sidebar will slide in. Now click on Settings.

2. Step Now click on More PC settings to open the PC Settings: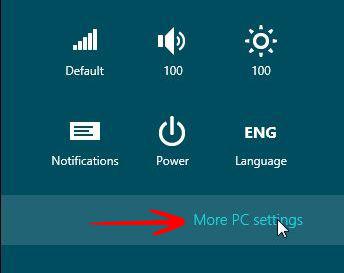 3. Step Navigate to the General tab. This is the screen you will see there: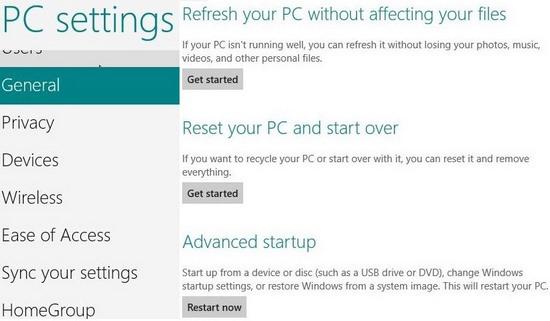 4. Step Now you have three options there:
1. Refresh your PC without affecting your files,
2. Reset your PC and start over and
3. Advanced startup.
The first option, Refresh your PC without affecting your files will reinstall your Windows 8 but keeps your file and folders untouched.
The second option Reset your PC and start over will do a fresh installation of Windows 8 like a factory reset. None of your files will be kept
The third option Advanced startup will give you further options for whether you want to install Windows 8 from a USB
device and other options.
Choose the option that you think will fix your problems and then click on Get Started.