One simple command is enough to see all of your recently used files on Windows 8



If you want to reopen any currently used files, you can find it in the recent documents folder.The Recent Documents folder holds records about the files and application shortcuts you have opened recently.
The ebooks you have read recently, the songs you have listened recently or the application ran on your computer recently – all these informations are stored in this folder so that you can access the file/folders which you have used recently. This tutorial is going to show you how to do open recent documents & see the files.
Steps to open recently used files
It's very easy thing to do.
Press window+R to start "Run"prompt.
Type "recent" in it.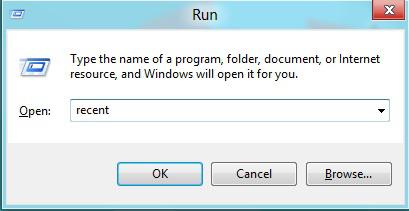 The recent folder will open.
Click any recent files to reopen them
Did you find this tutorial useful? If so, please link to it from your blog or Facebook page, much appreciated!