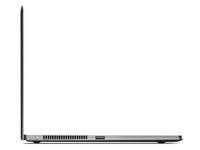 Are ultrabooks the hidden gem for Windows 8? Prices are dropping and Ultrabooks are much lighter than regular notebooks, making them the ultimate travelling companion
Ultrabooks are the hidden gem, according to Lenovo, and will become popular as prices drop
I've said before Windows 8 is the perfect fit for ultrabooks, because it supports both versions of the operating system (though it's crazy that we're talking about two different verisions working together). Whether consumers see the devices as value for money is another question, but Lenovo thinks price drops will cause their popularity to rise.
Lenovo claimed the products will be below $800, which would be very reasonable. The company that there will be many interesting form factors to match with Windows 8, based around the thin and light devices. Another question is whether users want touch screen devices, or a traditional laptop form factor, when buying an ultrabook. As you'll remember, Apple made comments that it doesn't believe there can be a halfway house design bringing elements on a tablet and laptop together.
Lenovo is no stranger to hybrid devices, though: it showed off the Lenovo Yoga. The company added Windows 8 allows a range of new capabilities, whereas previous Microsoft operating system have been mouse and keyboard-only. As we've said before, Microsoft is making the push for tablets with Windows 8 having been by Apple since the iPad debuted (despite an 80-inch tablet).
Ivy Bridge-Windows 8 Prices to Drop
Intel has also said prices will be around $699 by the end of 2012, and will launch 30 ultrabooks with its latest Ivy Bridge processor. Intel also said it saw a future of thin and light ultrabooks with touchscreens, which is something I'm not entirely sure about. Reaching over and tapping a screen on a laptop seems uncomfortable. I can't take a laptop anywhere I want as easily as a tablet.
Lenovo has also introduced the IdeaPad U310 and U410, both ultrabooks, with the highest price $799 – under $800. However, those products don't have touchscreens. Some users have questioned whether the keyboard and mouse combo works with Metro, as the interface is designed for touching titles. The biggest issues seems to be scrolling left and right, which is dragging rather than swiping.
We're expecting a range of devices when Windows 8 launches, which is increasingly around October. Rumors have said Microsoft is meeting with OEMs mid-year.