Acer's Iconia-6120 is a dual-touchscreen tablet PC. It is now available for preorder and will become available in April. Looks like April is going to be quite a month for tablet PC's.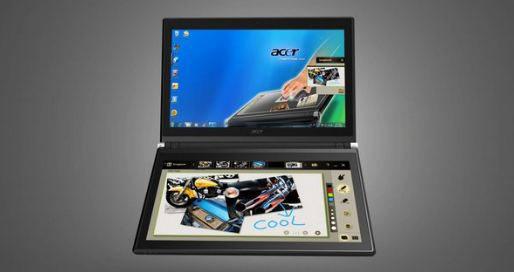 Acer has the curious habit of taking the latest trends and then trawling through the tech forums and blog comments to see what the masses want to add to it. So when it came to the tablet, it is little wonder that they produced a curious looking dual-screen tablet that sometimes tends to act like a laptop. Mostly though, it behaves like a modern tablet ought to. Somewhat like a superhero's dual identity, except that it doesn't wear its processors on the outside.
The Iconia-6120 is a dual-touchscreen tablet device that has twin hi-def LED backlit LCD displays for maximizing your touching and viewing pleasure. And either of the screens can act as a keypad for the times when you miss having a laptop to type out your Facebook and Twitter updates on.
Multitouch Gestures Open Facebook App
It has several smart functions like multitouch gestures to bring out special controls and pre-defined and custom shapes to call up specific apps. So you can draw a big 'F' and make the Facebook app come up every time. Or the Fart app. We're not judging.
The tablet will automatically bring up the onscreen keyboard when you place your palms on it (two big blobs side by side on the screen, hard to miss) and predictive text entry will speed up your text input. It can also recognize your handwriting but the stylus is sold separately.
The tablet's displays also have one more useful feature – a wipe and clean coating for easy cleaning — which is a welcome feature given how much smudging we tend to cause on our touchscreens. Also, for us evolved primates, these displays have super thin but super tough coating of Gorilla glass on top of them. So getting rough with them and wiping away the evidence can be done without causing any damage to the LCD.
HD Tablet PC
Under the hood Gorilla glass, you will find 4GB of memory, a 640GB SATA hard drive and a 1.3Mega 'HD' camera. That has to be a very loosely defined 'HD' standard. It has a USB 3.0 port, 2 USB 2.0 ports, Ethernet and HDMI too. Impressively, it only weighs 6.18 pounds, so even though it can runn Windows 7, it shouldn't be too much of a burden on your shoulders. But at $1,200, it might break your bank.
On Pre-sale right now, available in April this year.