It has been confirmed that the new BlackBerry PlayBook will not be supporting USB host capabilities when it gets launched, but there are high chances that this feature gets added to the device in the very near future. This is something that has been confirmed by the RIM Blackberry team themselves.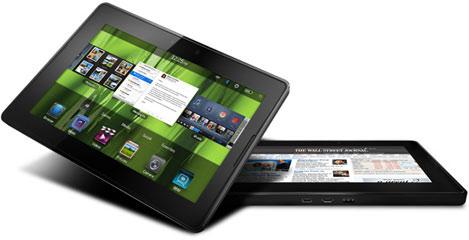 A USB host basically allows a computer to connect to another device via the USB port, thereby allowing the two devices to talk to each other. One device becomes the host and the other the slave — like when a digital camera is connected to a computer, the computer becomes the host and the camera is the slave. Recently however, more and more slave devices are being given host-like features. This is known as USB On-The-Go, which allows a slave device to perform limited host functions. When such a device is connected to a slave device, the two devices can communicate even without the presence of a computer.
Playbook Release Soon
The developer units of the BlackBerry PlayBooks are going to be shipped out very soon and they have been confirmed to native GPS and hence without any need for a tethered BlackBerry. Tethering a BlackBerry to the PlayBook using the BlackBerry Bridge would still be useful for features like access to e-mail, calendar, contacts, MemoPad, BBM and the file system. RIM are also trying to integrate features that will allow developers to write their own custom keyboard for the BlackBerry PlayBook.
The geolocation, camera and video APIs have been integrated into the Tablet OS SDK 0.9.4 for AIR, but it is only on live devices. The MicroHDMI port can be used to mirror on-screen action or to display custom imagery.
Playbook Apps
The only apps that are compatible with the playbook are the ones that are there on the Blackberry app world, which is accessible through the Playbook. The size limit for applications on BlackBerry smartphones is 8MB, but there is so such limit for the PlayBook slate. This will allow developers to implement graphic heavy applications that are going to be much larger in size. This feature is bound to make the BlackBerry PlayBook a device favoured by gamers and game developers. For all the classic arcade game enthusiasts, Tetris comes preloaded with every BlackBerry PlayBook.