If you want to add your PC to your list of allowed Wifi machines e.g. in your router software, you will need your MAC address. Here's how it works in Windows and what you can do if you manage more than 10 network devices using our BULK MAC Network Address finder! The tool is 100% free and was written by us.
Finding MAC Using CMD
1. Step Open a command prompt like your normally would. In Windows 10, this is particularly easy, simply enter cmd into the search bar and it will pop up but that should also work on Windows 11

2. Step Enter ipconfig -all
3. Step Now, it depends whether you are on Wi-Fi or if you are connected via cable. If you are connected via Wi-Fi look for Wireless LAN adapter Wi-Fi. Else, if you're connecting via cable (ethernet) look for Ethernet Adapter Local Area Connection.
Wi-Fi adapter MAC address: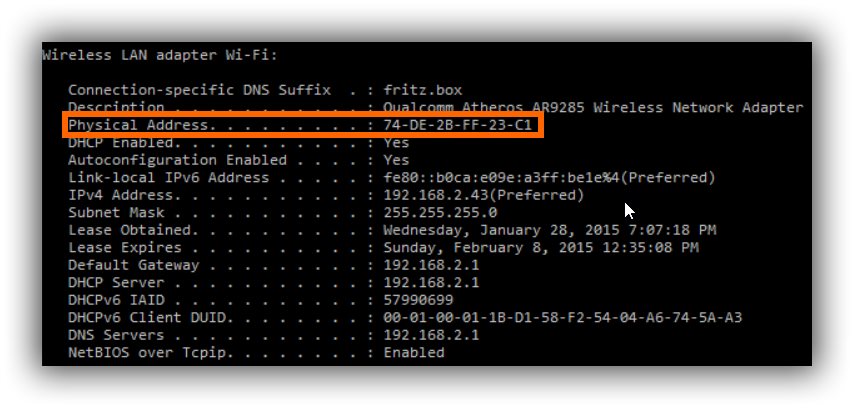 Ethernet adapter MAC address: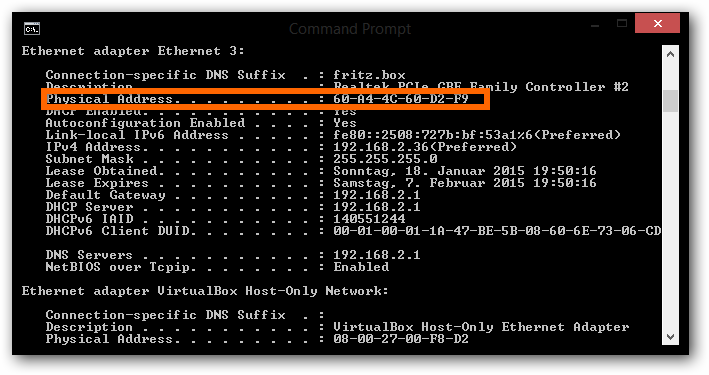 4. Step (Optional – Confirmation) Next, go to your router configuration system and verify that your device is listed. Make sure to also compare the IP addresses that were listed so you can double-check that it is the correct device. This shot is taken from a device from the manufacturer "fritz

Finding MAC Using Our Bulk Network Address Finder
Locating an address by IP just got easier. Simply hit GET ALL or enter the IP of a device to get its MAC. This tool has worked fine on previous Windows versions and is still working on the current Windows 10 build.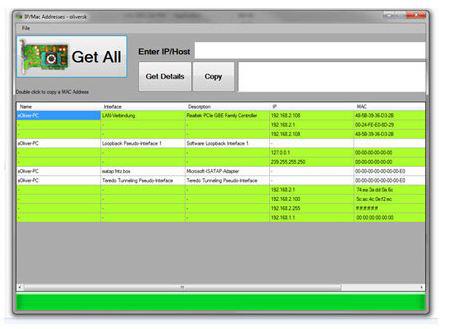 Install Netframework 4.0 (required)
CSV Export Support
Lists All Network Devices
Can Find MAC Addresses Not Listed By CMD
Can Find MAC By IP
If you encounter any bugs, first make sure you have the Netframework installed and if nothing else helps, you can report the bug here.
About Mac Addresses And Physical Identifiers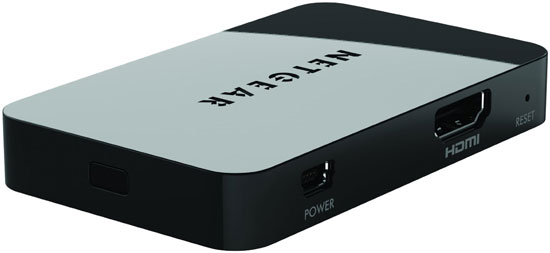 Physical ID's: MAC addresses are nothing else than unique physical identifiers. In order to detect hardware changes, software can use MAC address because they are uniquely tied to your machine. Also keep in mind all of your entertainment devices, including your Apple TV, Fire TV, Xbox One will have a MAC address.
MAC Filtering: Some routers allow you only certain devices using a so called MAC filter. This comes in handy if you know the MAC addresses of all network devices, which can be quite a daunting task in some cases, that's why we developed a tool to easily find and store MAC addresses in a tidy CSV file. Exporting MAC address becomes a simple 5 minute job that way and doesn't take up hours of your work.
Windows 10: Users of the latest Windows version, 10, will probably want test it as an entertainment OS and may need to look up their MAC address for that. Windows is pretty awesome for managing files and should be your go-to entertainment platform. Considering how Microsoft is most likely going to integrate more and more Xbox features, this is really a no-brainer.
MAC Filtering Using NetGear Genie
NetGear routers have an access control feature that includes MAC filtering – you can allow access selectively by MAC addresss. In order to set this up, you first need to block all incoming connections and then allow each device manually. Since this is quite a lot of work, our tool comes in quite handy for larger networks.
Conclusion
There are a varieties of useful ways to use MAC addresses. Although there wont be so many everyday-uses, it certainly may come in handy to know how to look it up some day.
If you are having problems with MAC filtering or our tool, post a comment below.