Want to learn more about svchost.exe and why it might use 100% CPU? Maybe your PC is infected, learn how to secure it.

Important: Svchost.exe is a critical Windows process – in short all important Windows services are run via svchost.exe instances.
Svchost Causing Hight CPU Load? Do This!
If you right-click on a shchost.exe process in your task manager and click on Go to Services, you can quickly find out what service causing the high CPU load.
1. Step Hit CTRL + ALT + DEL
2. Step Click on the button Show processes from all users

3. Step Right-click on a svchost.exe that is causing high CPU load and click on Go to Services: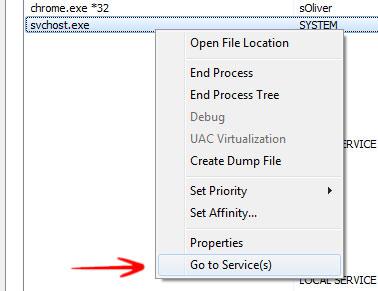 4. StepWrite down the services and look them up via Google, simply enter something like gpsvc, MMCSS, SENS to learn more about the Windows services. However, to speed things up I would only take a look at the svchost.exe services that are really consuming lots of CPU.
Task Manager is a default utility of Windows operating system that gives you complete monitoring over the processes running on your machine. If you look at the processes tab of your Task manager, you might notice a number of processes that you have no idea about. There are a number of system wide processes running on your system while there are processes that are set in your system by the intruders in order to disturb your computing experience. Svchost.exe is one of such files that start from one in number and might rise to many in number or sometimes just one of these files use up 100% of the cpu.
Svchost.exe Worm
Important: Some worms, viruses and trojans use the svchost.exe as a camouflage. Sneaky!
Svchost.exe is registered as W32.Mydoom.I@mm worm in the world of worms and is usually transferred to systems through e-mail messages as an attachment. It might also accompany any other file attachment as a worm. The attachment is usually opened and svchost.exe gets a chance to jump into your system.
The svchost.exe worm has its own SMTP engine working with it that lets it gather e-mails from your system and redistribute itself to other computers on the network. svchost.exe might act as a simple process in the beginning using very limited resources of your computer and giving you a feel of a system process. It then starts expanding the horizon and the action by many folds and finally reaches up to a point where it uses 100% of your CPU resources. The worm is meant to distribute and redistribute itself over network resources and infect as many systems as possible.
The svchost.exe worm also gives access to network intruders to your system. These intruder steal passwords and other personal data that is of a great value to you. svchost.exe is a worm that destroys your computer internally and helps intruders steal data too.
Non-system processes such as svchost.exe also come bound with software installations on your system. The software applications usually integrate their information in the system's registry and that is how svchost.exe gets a chance to get registered to the system's registry. This way the replication and propagation of this file becomes very easy.
The SMTP takes control over all the emails and utilizes every bit of your computer resource in order to send svchost.exe over network through emails.
In worst cases this worm can allow attackers to access your computer, stealing passwords and personal data. This process is a security risk and should be removed from your system.