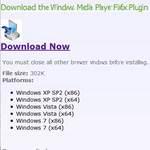 If you need the Windows Media Player plugin for Firefox or Google Chrome, but it's not working properly, here are some tips.
1. Step Make sure to uninstall VLC, and then reinstall the Windows Media Player Plugin, apparently there are some compatibility issues with some extensions.
2. Step You can download the Windows Media Player Plugin for Windows 7 32-bit and Windows 7 64-bit at http://www.interoperabilitybridges.com/
3. Step Google Chrome is known to be causing problems. Make sure you do not have any browsers running while you install the plugin above and restart after the installation. If you are still having problems, let us know and we'll look into it.
Within Firefox open the Add-ons page and make sure that "Microsoft® Windows Media Player Firefox Plugin" is present. The latest version is 1.0.0.8
It is possible that some plugins are incompatible with it. If you upgraded from Firefox 3 to 10, you should also consider creating a new Firefox profile to test the Windows Media Player Plugin.