You want to export your Windows themes on Windows 7 or 8 and share them with your friends? This is easy to do. Batch script for exporting multiple themes can be downloaded now.
Note Different Fileformats
Exporting Windows 7 as themepack files, and Windows 8 themes as deskthemepacks allows you to share them with your friends. Please note that you can use themepacks on Windows 8, but not deskthemepacks on Windows 7.
Additional: There's also a difference between themepacks and shell themes. If you are only interested in exporting your shell themes, you should read our guide on how to backup Windows themes
Step by Step
1. Step Right-click on your desktop and click on Personalize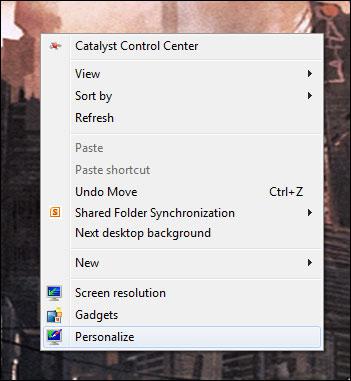 2. Step Before you can export your Windows 7 theme you should save it:
To save the theme, right-click on it then click Save theme
3. Step You can now export it. To do that, right-click on the theme again and this time click on Save for sharing:
4. Step Enter a file name and save your theme in a known location e.g. on your desktop
5. Step You will now have a file with the extension .themepack on your desktop – You have successfully exported your first Windows 7 theme then.
Want To Export Multiple Windows 7 Themes All At Once?
Because it would take a long time to export all Windows 7 themes individually, we have created a batch script that allows you to backup all of your themes. Plus members can already download it from the member area
You can find the free instructions here that will teach you how to export and backup windows 7 themes
Sharing Windows 7 Themes With Others
6. Step Upload the themepack themes somewhere or send it to friends via mail.
7. Step Once they double-click on it, it will automatically install on their machines
If you have any questions on how to export themes in Windows 7, post a question below
Windows 8 Users
If you're on Windows 8 or 8.1, it works exactly the same way, but the file format is called *.deskthemepacks