If you want to use the remote assistance in Windows 7, here's a nice Windows 7 tutorial by Vivek N.

Windows Remote Assistance is a feature in Windows 7 that allows users to request for help in case they are stuck with some problem while working on any application. This feature saves a lot of time for both user and helper as neither of them needs to move out from their places in order to receive or provide help. Instead, they can interact with each other online through the same protocol and port number (RDP 3389) which is used for Remote Desktop feature. However, the main difference between Remote Desktop and Remote Assistance is that in Remote Desktop the user does not require any request from the initiator and the person who has 'remote desktoped' the computer always (under default circumstances) gets the administrative privileges to work on the remote machine. On the other hand Remote Assistance helper gets the credentials of the user who invites him. As a normal computer user if you want to request for remote assistance you need to follow the steps given below:
1 Click on Start button and at the bottom of the menu in search box type Windows Remote Assistance.
2 From the available applications click on Windows Remote Assistance to initiate the program.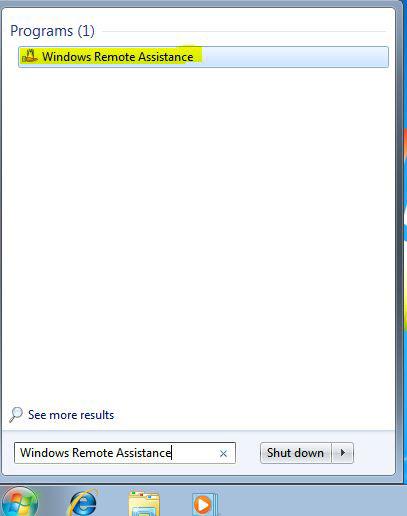 3 On the opened page click on Invite someone you trust to help you option.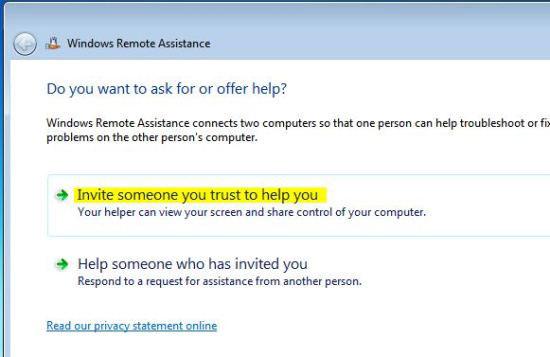 4 On How do you want to invite your trusted helper? page click on Save this invitation as a file option.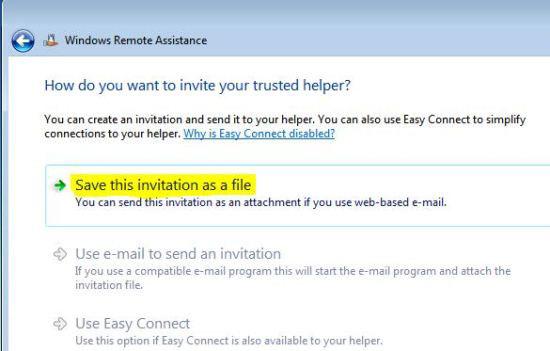 5 On Save As box browse for the location and click on Save button.
6 From the appeared box note the password. This password will be required by the helper when he will use the saved file to initiate Remote Assistance session to help you.



7 Once done, you can send the saved file to the helper along with the password. In case security is a concern, you can tell the password to your helper via phone or any other trusted media.